December 35:43.46S, 174:19.58E

Serenity of Swanwick
Phil and Sarah Tadd
Thu 31 Dec 2020 04:11
Another month gone and almost another year; having returned to Whangarei from our S Island trip Christmas was almost upon us. We needed to be in Whangarei for opticians appointments but other than that we had no plans.
We spent a week in the Town Basin, went to the cinema a couple of times, something we hadn't done since before lockdown mainly because there was nothing we wanted to see, and went for a walk up Tutamoe. Tutamoe is the second highest point in Northland and is a 'there and back' on the same track, 9km return and 700m climb, in trees all the way to the top so no views till you get there but then its a view all round Northland from coast to coast.
Views all round on top of Tutamoe
Steep descent mainly on tree roots
Obstacles on the path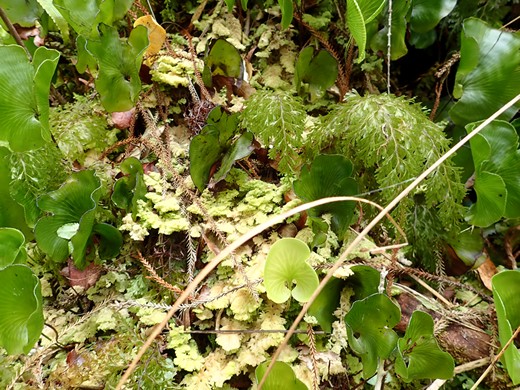 Luscious growth of ferns, mosses etc. in the rainforest
We escaped by boat up to Tutakaka for a couple of days to get away, a glorious sail with a particularly active group of Bottlenose Dolphins diving around the boat for a while. Some of the dolphins followed a fishing boat into the harbour later and could be seen chasing fish around the boats. We got our food at the Fishing Club later, fish and chips and scallop and chips, very tasty.
The anchorage in Tutakaka from the hill above the entrance
and a view down the coast to Hen and Chickens
Returning to Whangarei for our opticians appointments Sarah has some new specs on the way and the eye specialists reassured Phil that despite 'Specsavers' worries he doesn't have Glaucoma. Then it was Christmas. We had decided to spend Christmas moored in the Town Basin because there were activities going on. The night we had come back in was the judging of the decorated boats by the Mayor. Sarah had put up our flags to read Happy Xmas Whangarei and with a set of lights draped around and a bit of bunting we had made an effort and won a bottle of wine. On Christmas Eve there was a dinghy drift up the harbour, and excuse to have a drink and share snacks, not really a drift as the wind up the river was stronger than the tide down, a couple of dinghies put down anchors so that we didn't end up in the mangroves.
Motor up river for the drift
Drinks and shared snacks
Christmas day was the big party. Naylene, who works in the marina office, and Phil her partner invited all the cruisers out to their farm for a barbeque bring and share. One of their sheep was turning on the spit and there was plenty of barbeque space for the forty or so cruisers who turned up. Some of the cruisers are musical and we were entertained all afternoon with singing, music and chatter.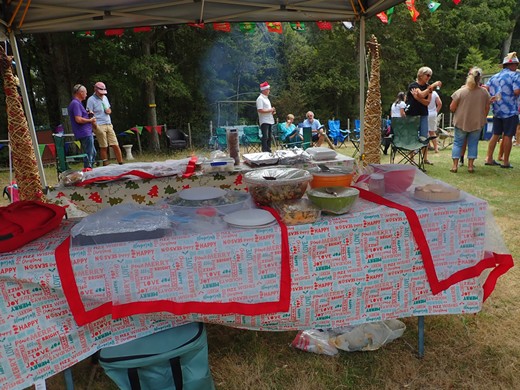 Plenty of food to share
Loads of BBQ space
Music with Naylene on the organ.
Now we are out on Great Barrier Island for New Year but more of that for the next blog.
Sent from Mail for Windows 10
---