A walk on the wild side: Iles Des Saintes, 15:52.1N, 61:35.1W

Serenity of Swanwick
Phil and Sarah Tadd
Wed 11 May 2016 13:00
We came to the Iles Des Saintes on Monday. We motorsailed down the side of Guadeloupe, as the wind was on the nose, then sailed the final 8 miles to the islands, dodging the squalls that were blowing down the channel.
The Saintes are a group of small islands, all less than 3 miles across, with only one town between them. They are part of Guadeloupe, and therefore are French. We are moored off the town of Bourg de Sainte, on Terre-de-Haut. The town is very pretty, with lots of creole buildings with painted doors and balconies, and has a good selection of restaurants and bars. There are crabs making their homes alongside the streets, and you can see star fish through the water in the harbour.
Yesterday we walked to the other side of the island (less than a mile across the middle) to the wild side. In contrast to the quaint town with its lovely flower filled gardens, Grande Anse, on the windward coast, is a cliff encircled stretch of empty beach with breakers rolling in from the Atlantic, and distant views of Dominica. We were the only people there and it was quite dramatic. As you walk along the beach you walk past the end of the airstrip, which must have been built on the only stretch of land flat enough for it.
On our way back we visited a cove overlooking Terre-de-Bas, then next biggest island, and we discovered the local outdoor gym (haven't seen one of these since Portugal where they were everywhere). Today we plan on visiting Fort Napoleon, before moving to another bay in the islands to try and find some snorkelling.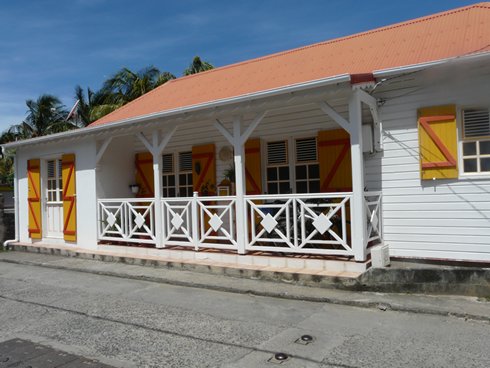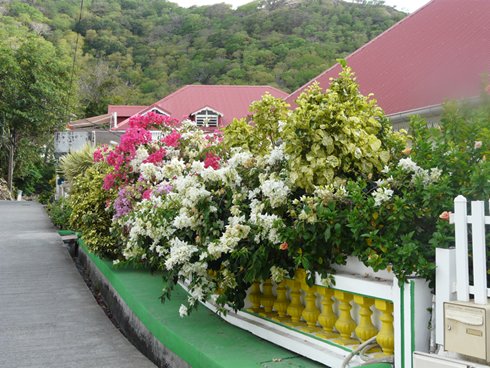 ---