Around Antigua and summer plans

Serenity of Swanwick
Phil and Sarah Tadd
Thu 3 Mar 2016 15:11
While we were in Falmouth Harbour, Sarah spoke to a sailing school about taking her Yachtmaster Ocean exam, and they said they could arrange it, so during the rest of our stay here Sarah has been revising, which means we haven't seen much of the island. We will be back again, and will have plenty of time to look round then.
We had an interesting trip round to the north west side of the island, passing between Cades Reef and the land, and watching the changing colours of the sea in the shallow water. We spent a couple of nights anchored in Ballast Bay, just outside St Johns. Its not the most picturesque anchorage so we had it to ourselves and it was lovely and quiet. Our reason for stopping here was to join Antigua Hash House Harriers at their fortnightly meet - starting from the Pensioners Corner Beach Bar. It was an enjoyable, but very hot hash - we now understand why hashes outside England have a larger number of walkers than runners. As one of the hashers said 'when you come out with the hash you see parts of the island other visitors don't': this as we were passing through the rubbish dump!
We then returned south for our delayed visit to Jolly Harbour, where the real estate is amazing. There was one particular bungalow on the beach at the entrance to the harbour which Sarah really fancied.
Thence back to Falmouth, once again inside Cade Reef and beating against the wind, which was great fun until a heavy rain shower came through when we gave up and motored for a while. Sarah had her exam that evening, an oral exam checking her sun sights and discussing the passage - and the examiner passed her.
We are now in Nonsuch Bay. Yesterday evening we went ashore to the hotel to visit James, Vikki, Rocco, Joy and Barry in their lovely holiday apartment where they treated us to showers and a drink. It has got a bit windy and choppy on this side of the bay now, so we will move to the shelter of Green Island for tonight, and then hope to move on to Barbuda tomorrow.
When we were in the Canary and Cape Verde Islands the talk among cruising sailors was all about when you were going to cross the Atlantic and your destination. Soon after arrival in the Caribbean it moved on to talk about what you were going to do for the hurricane season (roughly mid June to mid November). Options are to make sure you are out of the area, or secure the boat somewhere. We have now decided on the latter option, and 'Serenity' is booked to be lifted out in a yard here on Antigua about June 15th. We will then be planning on coming home during July, August and September, then returning here at the end of that time to get the boat ready for next season.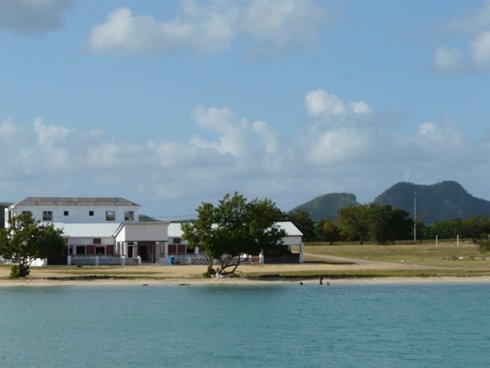 ---