Our last days in the Sounds and Passage to Napier 39:29.024S, 176:53.52E

Serenity of Swanwick
Phil and Sarah Tadd
Thu 10 Mar 2022 21:55
This is another blog which covers two different periods, more time in the sounds and then the start of our passage back north. After completing the Queen Charlotte Track we re- provisioned and left Picton. The weather was quite changeable starting with some light northerlies then two southerly gales which we needed to shelter from. More lighter winds then a good three day forecast for the passage north.
1 Flipper Bay, 2 Double Bay, 3 Governors Bay, 4 Wharehunga, 5 Pickersgill Island, finishing at Ngaruru Bay in the Tory Channel
First a short sail across to Flipper Bay, an anchorage which had been recommended to us and as the mooring here was damaged and out of use we had to anchor with a line taken ashore to stop us swinging and to keep us in the shelter of the small cove. This was a technique which we had expected to use frequently in the Sounds but this was our first and only experience of it. In the deep water of the cove we were less than 20 metres from the shore but still in deep enough water.
Anchored in Flipper Bay with a sternline going ashore to hold us into the shelter of the bay
Two nights in Flipper Bay and then there was the first of two southerly gales on the way so having used a buoy in Double Bay before we decided that it would give good protection. This time we had to share a buoy which is a bit of a worry in bad weather. Chris and Christine on Midnight, which we were rafted alongside, were a bit dubious at first but we assured them that we would leave if it became uncomfortable and there was any chance of damage, but it was all ok. Desiderata anchored further out in the bay and had a very uncomfortable night swinging in a big arc. The next day Christine persuaded Chris that actually it would be better to head home to their mooring in Waikawa Marina so we then had the mooring to ourselves as the wind eased down. We knew there would be a second blow coming in a couple of days so headed back in to Governors Bay which is reputed to be the best shelter there is. We arrived and there were two buoys available, great we could get in there and claim squatters rights for three nights.
There was a track went up from the beach to the main road and we walked this for a bit of exercise as we hadn't been ashore for four days. There was a good view of the boats in the bay, and also, by following the road, some prime real estate. There was one house for sale but we don't know how much it would go for as they don't put prices on any of their advertising.
Governors Bay, on one of the shared club moorings. Reputed to be the best shelter in S winds
Prime real estate in the next bay round
We have been waiting for the opportunity to visit Whareunga Bay but so far hadn't had the opportunity. We were told that there was a school of Dolphins there which would come out and greet boats as well as swimming around your dinghy. They must have been on holiday the two days we spent there or maybe the fishing was better somewhere else, we didn't see them but it was a rather nice spot. Again we were on a combined club mooring and had it to ourselves. It is a large bay with a house in one corner and a Department of Conservation campsite we can only assume that it would be used by canoeists or people coming out in small boats for a few days fishing, perhaps also by Outward Bound for their expeditions in whalers (small boats which can be rowed or sailed) we did see one heading in here just after we left and one of the moorings in the bay is owned by Outward Bound.
Whareunga Bay, looking in toward the campsite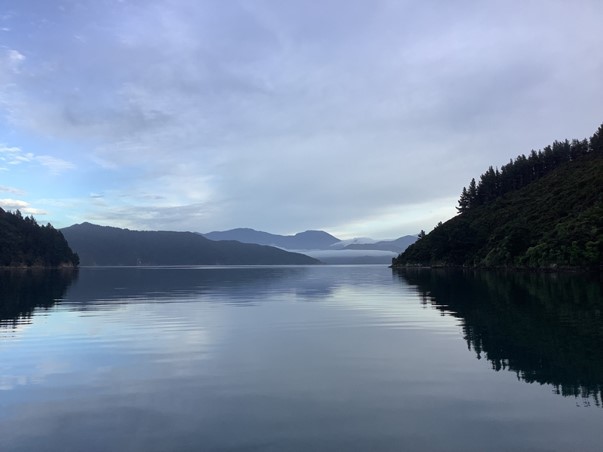 And looking out across Queen Charlotte Sound
We had seen a possible weather window for heading north in the next few days and as there was no phone reception here, even by walking up the hill, we moved across to Pickersgill Island, another mooring which had been recommended, good fishing, snorkelling and more important a phone signal so we could get on line and download the weather.
Sailing back up north means first of all crossing the Cook Strait, notorious for high winds and rough conditions, then round Cape Palliser and up the coast to Napier. 220 miles for which we wanted a northerly wind crossing the strait followed by a southerly wind to take us up the coast, not much to ask for. We didn't quite get it as the wind went back to the north for the last few miles but very light and certainly not enough to sail.
The route north, we didn't go as close to the coast as this shows
Leaving at midnight was the plan, this would put us at the exit from Tory Channel at the turn of tide giving us a push out into Cook Strait and helping us on our way. The mooring we used in Ngaruru Bay is the only one that the pilot says is sheltered from the ferry wash. The ferries from Wellington to Picton mostly pass up and down the Tory Channel and doing 20 knots they certainly give enough wash to disturb your sleep. Motoring out through the Tory Channel in the dark felt quite daunting, there are only a few navigation buoys and lights and the possibility of rough seas at the entrance so we were both awake for this passage and it went fine. There was a good wind from behind so with just a reefed headsail we were maintaining a good 7-8 knots being helped by the current flowing out of the Strait. Two ferries had overtaken us before we got across and one passed in the opposite direction, all well clear and no worries. Phil was on watch until we passed Wellington and Sarah took us on down to Cape Palliser which we approached at sunrise.
Sunrise over Cape Palliser
This part of New Zealand is very rugged and is quite lacking in habitation, apart from Wellington and further inland up the Hutt Valley,  with the backdrop of hills rising up from the coast it feels very remote. We had planned the passage to make the turn north around Cape Palliser when the strongest southerly winds had gone through but we were ahead of schedule rounding the Cape and it picked up from behind us to 25 knots and Serenity was flying along with a reefed headsail.  With the grey sea covered in white caps, the high black cliffs, and Mollymawks (a small member of the albatross family) swooping in our wake it was a dramatic scene.  The first of several dolphin pods visited us at this point and loved the rough sea and our speed, leaping out of the water as they swam around us.
We carried the current from Cook Strait well out round Cape Palliser and up the coast. As we progressed up the coast we were visited by a number of large schools of dolphins including at night when you could see them occasionally surfacing alongside. When they came and played in our bow wave in daylight, as always they were a delight to see, the water was so clear they could be seen at quite a depth.
Dolphins were with us often
Cape Kidnappers where we turned northwest for Napier
Before we reached Cape Kidnappers we were motoring in very light airs and hardly sailed again before we got in. As we approached Napier we could see shipping movements and had to wait a long time to cross the commercial port entrance but by 16.30 we were tied up on the visitors pontoon at Napier Sailing Club.
Sent from Mail for Windows
---