Doubtful Sound and Skippers Canyon

Serenity of Swanwick
Phil and Sarah Tadd
Fri 27 Nov 2020 00:16
Having been energetic walking the Kepler track we took a bit of a rest and did a couple of touristy things. Doubtful Sound is an inlet into Fiordland from the Tasman, in the far SW of New Zealand. Named by Captain Cook who didn't go into the sound or let any of his men take boats in as being open to the west where the prevailing winds come from, he was doubtful if he would be able to sail out again if he entered.
We started out with a boat trip across Lake Manapouri. The lake provides water for a hydro electric scheme whose power station is in the west arm. The water goes through tunnels with the turbines in and flows out into Doubtful Sound. A road joins the west arm of Lake Manapouri to Doubtful Sound traversing the Wilmot Pass, at 671 meters, and goes nowhere else (apparently it was the most expensive road to make in New Zealand) it is unsealed (gravel) and cost $80 per square metre. The road was built to bring in the turbines for the power station, they were shipped in to Doubtful Sound and brought by road to Lake Manapouri. We travelled over this road by coach with a very informative driver and then boarded another boat to go out into Doubtful Sound. This was reversed on return in total a 7 hr trip.
Looking across Lake Manapouri to the mountains where we had been walking on the Kepler Track.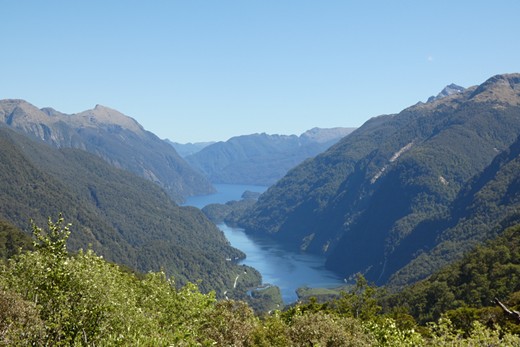 Looking down from the Wilmot Pass to Doubtful Sound. Not really a sound but a fjord scoured out by glacial action.
U shaped valleys and hanging valleys. The white scars are caused by tree avalanches. Over time the rock has been covered by lichens then mosses, this provides the 'soil' for trees to root in. Some roots will penetrate cracks and give enough grip to hold the trees but eventually a tree will fall and bring down all that is below it. The process then starts again.
Reflections in Doubtful Sound.
Over two days we travelled back north to Queenstown and booked up our second tourist trip: Skippers Canyon. This is a drive into Skippers Canyon, a gold mining area, and the road was cut by hand to bring equipment in to work the alluvial gold diggings. First we had a quiet night at Lake Moke, a DOC campsite at the end of a 6km gravel road. The entertainment here was provided by a couple of ducks and their ducklings who hung around all evening despite getting no titbits.
Anyone home?
The family, nestled down next to Sarah's chair.
Skippers Canyon road is a public road but rental vehicles are not allowed to drive it, 4 wheel drive is preferred and a number of companies offer a four hour trip. We booked with Private Discovery, a one man band, Charles provides a comfortable land cruiser, much better than the vehicles offered by the 'adventure' companies and a similar price.
Carved by hand the road goes through a number of cuttings
Lighthouse rock and a view down to the road, which winds its way down the canyon in a series of tight curves with sheer drops to the side. We waited here while lots of cars came back up the track. There is a school camp at the end of the road and parents were returning to Queenstown after dropping off their children. An unusual school run, Charles told us that it was probably a three hour each way journey for them.
The river far below, we didn't get out of the car for this photo on a narrow section of the road
The main alluvial gold workings, other workings would have been up the many rocky gullies.
Skippers school house. There would have been quite a community living in Skipper with the small town serving the miners and the local farms, about 1000 people at its peak.
Skippers Bridge, high above the Shotover river gives access to Skipper and the gold fields. Built in 1898 and opened in 1901 it still carries cars and has had very little repair work. It is the site of the first commercial Bungy Jump.
---