City of Tual

Serenity of Swanwick
Phil and Sarah Tadd
Sat 5 Aug 2023 09:18
Mosques, Markets and Motorcycles. We are now in our first Indonesian city and on Indonesian time, things happen when they happen. On the afternoon of our arrival Kim, the agent, brought out Farida, the immigration official, and our clearance started. There were four boats to clear in and this obviously would take time, it was all very cheerful and smiley with photographs of medicine boxes, engine numbers and paperwork, and of course selfies something we must get used to. We were allowed ashore in the evening to collect our passports with visas attached, all photographed to prove it had been done properly and we could visit the ATM and wander through the market. We had no idea of the exchange rate so took out a million Rupiah each which turned out to be 50 pounds sterling.
Wednesday we finished clearance with a visit by customs and then a visit to the customs office to collect the paperwork. At this stage we did not have any phone SIM so all seven of us had a hair raising trip across town on the back of motorbikes to the Telephone office to buy cards and register our phones. Brilliant fun.
Farida, the quarantine official
Mosques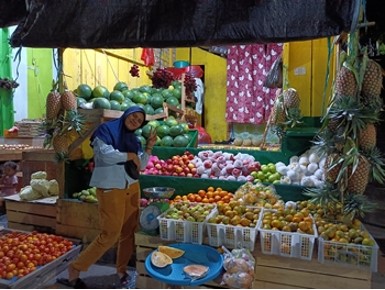 Markets and everywhere there are motorbikes, not only privately owned but they are part of the public transport system, like taxis in UK.
A days outing was arranged to visit the Crystal Caves and Long Beach to include lunch and shopping
The crystal caves are so called for their crystal clear water and swimming is allowed in one of them.
A wild pig hunt was going on in the area of the crystal caves, with some men driving the pigs toward waiting hunters armed with sharp poles and machetes
Lunch was at the Forganza Cafe, Tual's top restaurant.
Then on to Long Beach for a swim, the sand here is incredibly fine and the water brilliant blue.
The few yachts that come here are an attraction for the locals and children all want their photos taken
as do adults.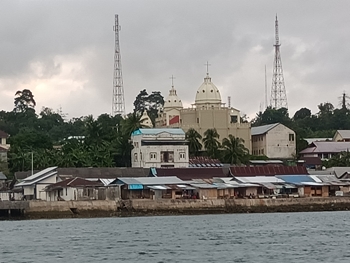 Although Tual itself is mainly Muslim, the local market and port is overshadowed by the Catholic Church.
It has been a hectic week here and although we don't seem to have done a lot we are getting used to the heat and humidity, the hustle and bustle of the city and the friendliness of the people, and being woken at 4.00 in the morning by the first call to prayers!
Sent from Mail for Windows
---