From top to bottom of La Gomera

Serenity of Swanwick
Phil and Sarah Tadd
Fri 27 Nov 2015 08:11
We spent Wednesday on final checks around the boat: Sarah checked the rigging at deck level and Phil went up the mast to make sure all was OK, and Phil did the most important bit of making sure we aren't overspending our budget. We then had a look around San Sebastian, which is a small town, with a main square full of cafes, and attractive church and some nice public gardens containing a strange tower that seems to have been cut off half way up. There is a black volcanic sand beach within the harbour, and the residential parts of the town seem to be built up the hill behind. On Wednesday evening a string quartet from the music association of La Gomera were playing in the square, so we went ashore to listen for a while, and they were really good (as was the ice-cream made from locally grown fruits!).
Yesterday we caught the bus into the Garajonay National Park for a walk. The bus trip gave fantastic views over the mountains and valleys and out to sea, with the clearest view we have had so far of Tenerife (30 miles away) and Teide free of cloud. La Gomera has an excellent network of well maintained and waymarked walking paths through the mountains and around the coast. We got off the bus 150 meters below, and 2.5km from, Alto de Garajonay, which is the highest point on the island at 1,487 meters, and walked up to the top in light mist. We had been going to do a walk down the south side of the mountain to Imada, but changed our minds when we saw the slightly uninteresting terrain and instead headed into the interior of the National Park, which is covered in ancient rainforest. We didn't get many views because of the mist and the trees, but it was an enjoyable walk down to a hermitage in the middle of the forest and then back up to the road: about 16km at this point.
We decided to walk 4km to a different bus stop for the return journey, as we wanted some photos of some amazing rock formations (which sadly refused to come out of the mist for us). We rushed the 4km to get there in time for the bus, but then in confusion over exactly where the bus stop was it went sailing right past us as we waved from the side of the road. The next and last bus wasn't for another 3 hours, and it was 'only' 10km to San Sebastian, so we decided to walk back. The last bit did give us some of the best views of the walk, but included quite a bit of climb for a downhill walk, and the last 5km on stony tracks was quite punishing. So a refreshing orange juice in a café in town was followed by supper, a beer, a shower and sleep.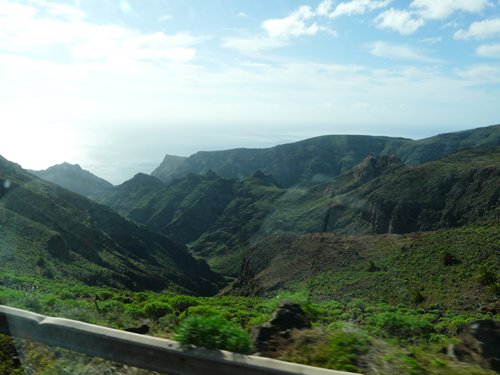 ---