To the Cousteau Marine Reserve at Pigeon Island. 16:10.4N,61:4 6.8W

Serenity of Swanwick
Phil and Sarah Tadd
Thu 26 May 2016 11:07
We spent a total of six nights in Pointe a Pitre, four at anchor with two in the marina in the middle. While we were in the marina we went ashore for a meal out to celebrate Phil's birthday. It was a good choice of restaurant with very tasty and beautifully presented food. We also bought an extra 100w solar panel, as our batteries were struggling to run the fridge in the climate out here, and Phil fitted it once we were back at anchor. We are now able to keep the fridge running during most of the daylight hours, which is a huge improvement. We also visited the Aquarium, which was interesting to see what the fishes, corals and sponges that we have been seeing are, but we felt a bit sorry for the creatures being kept in quite small tanks.
On Tuesday we headed back round to Pigeon Island, and the Cousteau Marine Reserve. It was only 16 miles as the crow flies, but the way Serenity had to sail, round the southern end of Basse Terre, it was 40 miles. The wind was force 4 -5, but was on the beam or behind us most of the way so we kept up a good speed, and it veered to the south as we rounded the south of the island, so we didn't have to gybe until we turned to come up the west coast.
The Cousteau Marine Reserve is a well known dive site. You are not allowed to anchor at Pigeon Island itself, to protect the reefs, and the bouys that are available are for daytime use only, so we anchored by the mainland and used the dingy to get across to snorkel. The snorkelling was the best we have seen yet. The good coral was quite deep, but there were so many colourful fish, and they seemed to be less shy than other places we have been. The anchorage was lovely - only rolly on occasions, and with great views and sunsets. We enjoyed the snorkelling so much that on the morning we left we took Serenity over and picked up one of the yacht moorings so that we could have another swim. It felt like we were anchoring on top of the rocks - but we had 7 meters below us.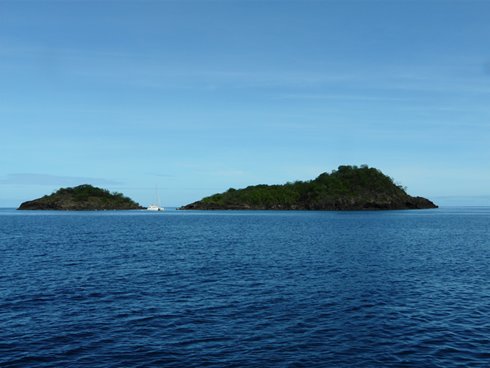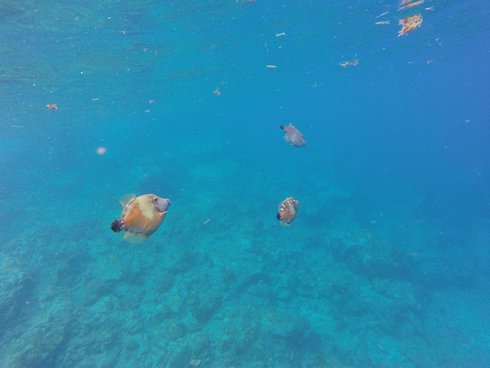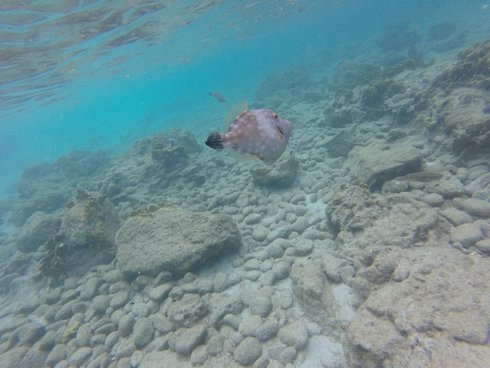 ---