Little Jost Van Dyke. 18:26.9N, 64:43.2W

Serenity of Swanwick
Phil and Sarah Tadd
Sun 17 Apr 2016 08:54
We are anchored in the bay between Jost Van Dyke and Little Jost Van Dyke, apparently named after a Dutch pirate. The bay is lovely, dotted with beaches and protected by the reef connecting Green Cay and Sandy Spit to the island.
Yesterday we gave Phil's new snorkelling gear its first proper try out, and he said it was well worth the cost. We had been told that there was a nice section of reef by the beach we are anchored next to, and we found lots of colourful fish (electric blue, yellow, pink) and lovely coral and plants. Sarah saw a couple of squid and a small barracuda. Sarah's underwater photography still needs some practice, so only a few of the 75 pictures she took are any good!
The Cruising Association rally officially ended in Cane Garden Bay, but a number of boats made the 4 mile crossing to this bay, so the party continued: yesterday afternoon at the Bline Beach Bar, and then on board the lovely 'Trick', hosted by Joan and Mila. Now everyone is beginning to go their separate ways, with some heading north and back to Europe and others south to wherever they have decided to lay up for the summer.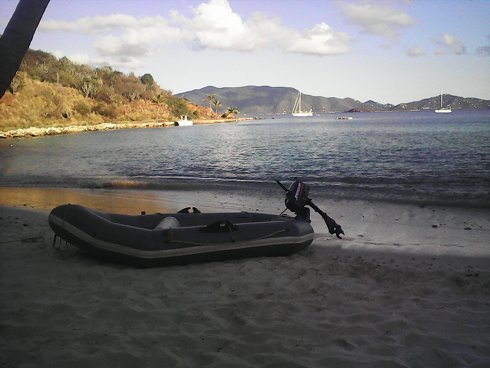 ---