SIRT7 Mount Cook 43:43.44S, 170:06.35E

Serenity of Swanwick
Phil and Sarah Tadd
Sat 17 Mar 2018 03:13
Heading on toward Mount Cook we made a stop at Oamaru: an important port in Victorian times it still has some well preserved Victorian buildings. It also has some rather quirky art in the form of carved trees and a playground made mainly from scrap ironwork.
Animals and birds carved into dead tree trunks.
Quirky artistic childrens playground.
And the well preserved Victorian precinct.
Then the long mainly flat and straight drive up into Mackenzie country and the Mount Cook range. Rising to over 3000m the range is visible for miles on the approach and the final 40 odd miles from Twizel seem to take for ever.
Mount Sefton in the Mount Cook range rising from the flat valley of Lake Pukaki
We camped at White Horse Hill campsite, a DOC site at the head of the valley, along with hundreds of others. As we have found throughout New Zealand these campsites, which are open and sometimes paid for on an honesty box principle, are always clean and well kept. Everyone seems to take it for grated that you keep the areas and facilities clean and remove all of your rubbish.
We went for a short walk up toward the Hooker glacier in the evening to get a clear view of Aoraki (Mount Cook) and were not disappointed. It was lucky we had time for this, as the next day the mountain tops were in cloud. The next day we walked up the Mueller valley following a trail but because of the number of steps on it (we appreciate that the New Zealanders protect their landscape by installing gravel paths and steps but it rather detracts from the mountain experience) and the low cloud we turned back and walked out to a view point instead.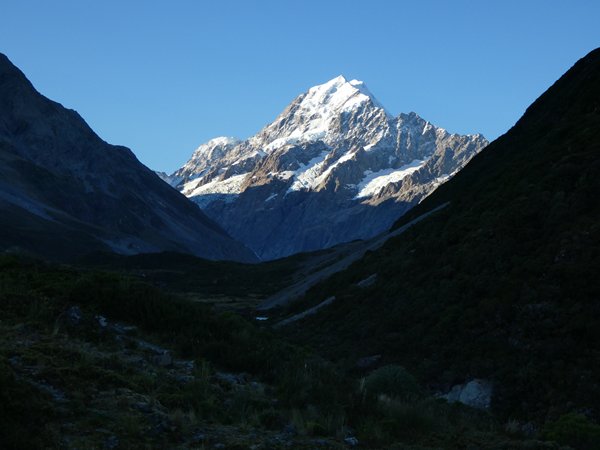 Mount Cook from the Hooker Valley.
Sent from Mail for Windows 10
---