SIRT 8 - Christchurch and the Banks Peninsula 43:31.8S, 172:24.5E

Serenity of Swanwick
Phil and Sarah Tadd
Tue 20 Mar 2018 19:44
From Mount Cook we returned to the East Coast, but by a more northerly route, past Lake Tekapo. We had planned to stop at one of 3 free campsites in the Te Moana Scenic Reserve, but after driving up a narrow gravel road we decided we didn't like them (small, muddy and not very flat). Luckily, not very far away we found a lovely, flat site beside the community hall in the village of Woodbury, and even the wedding party in the hall didn't disturb us. We woke to the amazing sound of Australian Magpies singing all around us.
Looking up Lake Tekapo to the Southern Alps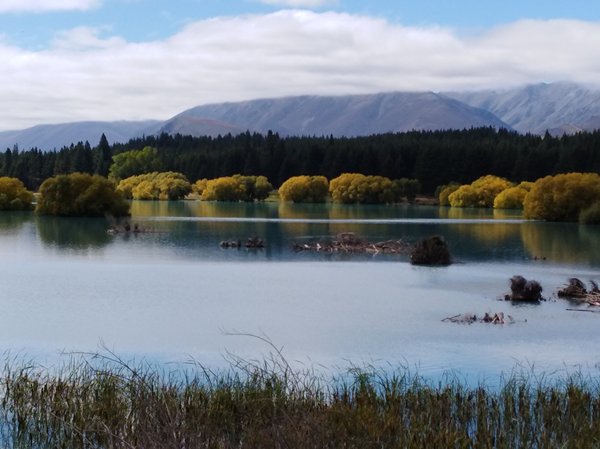 Autumn colours on Lake Tekapo
Sunday saw us in Christchurch, still rebuilding after earthquakes in 2010 & 2011. Where there has been rebuilding some nice public spaces have been created, but its sad to see the damage still. We visited the 'cardboard' cathedral – which was built to replace Christ Church Cathedral; damaged in the 2011 earthquake. The decision has only just been made to rebuild, meanwhile the Transitional Cathedral, which is made largely of cardboard, is a major tourist attraction for the city. We had a walk around the Botanic Gardens, where the trees stole the show, although there was a lovely rose garden as well.
The old Cathedral. One of many damaged buildings still to be seen in Christchurch
The beautifully simple interior of the Transitional Cathedral
And the outside
Trees beginning to turn in the Botanical Gardens
Banks Peninsula, which stretches out into the Pacific Ocean to the south west of Christchurch, was formed by two volcanos erupting, and the resulting craters formed two harbours. Lyttleton Harbour, at the north west end is the main port for Christchurch, and at the far end of the peninsula, reached by the only major road that winds its way up and down the hills is Akaroa, which is billed as the most French town in New Zealand. We didn't find it particularly French, apart from the few tricolours painted on walls, a bakery that sold baguettes and a boucherie it seemed much like other New Zealand towns.
Akaroa
Looking across Banks Peninsula towards Akaroa Harbour
On the way back out we found another community run campsite at Motukarara. This was a huge playing field area next to the racecourse, and we were able to watch the herd instinct at play. We were the second campers to arrive and despite the size of the area almost all the people who arrived after us camped right next to us.
Sent from Mail for Windows 10
---