Arrival in Mindelo 16:53.2N, 24:59.49W

Serenity of Swanwick
Phil and Sarah Tadd
Thu 10 Dec 2015 15:32
By 2100 on Monday we were less than 20 miles from Mindelo, so we hove to, with just a small amount of the Genoa backed and the rudder and self steering working against each other, to stay in the same position overnight. It was a starlit night, but the constant haze meant we couldn't see the lights of the islands, even thought they were so close.
At about 0500 we got sailing, but still just with the Genoa, as our pilot book said that the wind could suddenly increase in the channel between Sao Vincente and the neighbouring island of Santo Antao. In fact the wind steadily decreased and with 6 miles to go we started motoring. Our friends on 'Saga' were already anchored in the bay, so we went and said good morning to them before heading in to the marina, where we moored up bows to the pontoon, next to a Dutch boat we had been alongside on Fuerteventura. Sarah is glad of all those years of yoga, as getting ashore involves climbing over the front of the boat, balancing on the anchor which is tied up there and then stretching for the pontoon. We are enjoying the luxury of the marina, as it is the only one in the Cape Verde Islands, and after this we will be anchoring until we leave.
A couple of hours on our first day were spent on paperwork, as we had to register in the marina, then go to the police and leave documents with them, before getting our passports stamped at immigration. It wasn't difficult, it was just a case of managing to be at the immigration office at the same time as the immigration officer! We will have to go through the same process in reverse when we leave Sao Vincente and repeat at each island we visit.
The official language is Portuguese, but there is a lot of Africa here as well, particularly in the markets, which are fantastic for fresh produce. As Europeans we are constantly stopped by people who want to sell us something (my mother/sister will do your laundry/sewing), but it is always friendly and good natured and we have had no difficulty in saying no.
Santo Antao, is only 9 miles away (though we have only seen it once through the haze) and is supposed to be one of the best islands in the archipelago, but it doesn't have any really safe anchorages, so as a Christmas present to ourselves we have arranged to visit by ferry tomorrow and to stay over night. We will be met at the ferry by our driver, Frank, and are staying overnight at the pensao Spencer…
Photos below are Sarah taking a sun sight, red sand covering everything, our arrival in Mindelo and the evening view from our mooring. We will post more pictures of Mindelo later.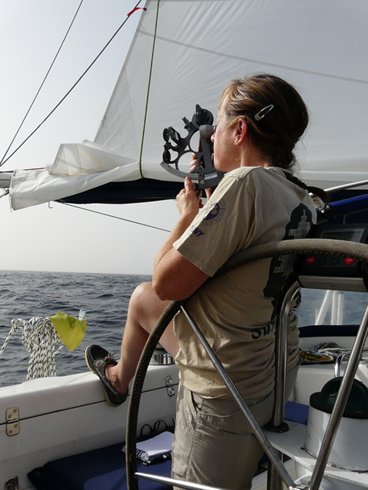 ---