Fulaga in pictures - arrival and the village part 1

Serenity of Swanwick
Phil and Sarah Tadd
Sun 1 Sep 2019 00:35
'Serenity' on the way to Fulaga -courtesy of Michelle on 'Forever'
'Serenity' in the pass at Fulaga – courtesy of Sash on 'Sea Eagle'
The instructions for the pass say go as close as you can to the rock and then turn hard left. You can see the outline of the reef on the left hand side, and the darker patches in the blue are rocks on the bottom of the pass.
Our first anchorage – you can see the patches of reef between the anchored boats, and the village is on the right hand side of the land behind us – courtesy of Darren the Drone and Jo and Rob on 'Double Trouble'
'Serenity' – thanks to Darren the drone again
The village of Moana-I-Cake – the chiefly village of Fulaga where we had to go to do Sevu Sevu. The houses have rounded ends – a traditional way of building in Tonga. The islands of the Lau Group were once part of Tonga.
The village church. Most of the islanders are Methodist
Sunday lunch after church with our host, Mary. Rice, sea grapes, pumpkin curry, cassava, sweet potato and octopus!
Fulagans are known for their carving skills. These are all made from Vesi, a local wood.
This traditional canoe was made to show government officials the skills involved. They all use fibreglass long boats now!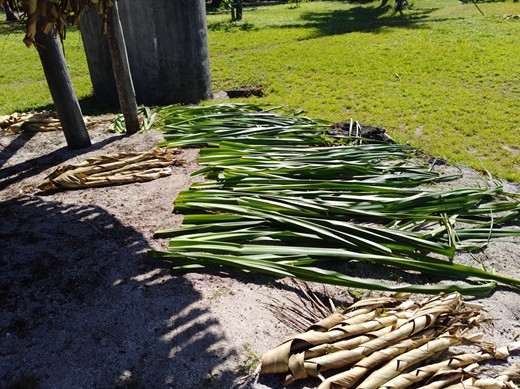 The women use pandanus leaves to weave the mats they cover the floor with in their houses
Weaving is a community effort and each mat takes several women 3 days to complete
---