Life Down Under

Serenity of Swanwick
Phil and Sarah Tadd
Sat 19 Nov 2022 10:03
We flew back into Brisbane on the 7th November, after another easy trip with everything running on time, and stayed the night in the city as we were too late for the last train back to Bundaberg.  Our hotel was amazing.  It was an old building right in the city centre that had been beautifully renovated and our room was huge, with a queen bed, sofa that could turn into a bed, dining table for four, a kitchenette and washing machine/dryer.  Highly recommended, but jet lag meant we didn't fully appreciate its comforts.
The Royal Albert Brisbane – better than Holiday Inn at Heathrow!
Back in Bundaberg Port Marina the following day, Serenity had been moved from the dry storage area to the Hardstand, where we were allowed to live on board and work on her and we settled in to get her ready for the coming season.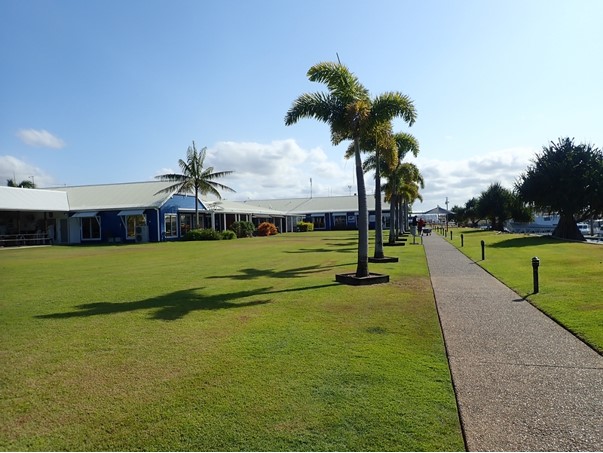 Bundaberg Port Marina
We had purchased new wind instruments, echo sounder and log to complete the instrument upgrade we started with the self steering in Noumea and Phil set about installing them.  This included installing a new transducer for the echo sounder and impeller for the log, both of which go through the hull so had to be put in while we were out of the water.  We also needed to replace a through hull fitting for one of the heads (toilets) as it had seized during last season.  When all of this was done we put a coat of antifouling on to keep us going until the next haul out.
Between jobs we attended events on the Down Under Rally.  While we were away in the UK lots of cruising yachts had been arriving in the marina for the rally which consisted of presentations on sailing the east coast of Australia during the day and social events in the evenings.  It was an excellent week: with a great atmosphere and a good mix of events and it was good to meet up with lots of old friends and to make new aquaintances, many of whom we will come across again as we cruise south this year.
The stage is set for the Done and Dusted party to end the rally, at the Lighthouse Pub.  Sarah got to try playing one of the didgeriedoos
Before we flew home we had booked a 'Turtle Experience' at the Mon Repos Turtle Centre a few miles from here.  The beach is a major hatchery for loggerhead turtles in particular and the female turtles come ashore to lay their eggs at night from late October, with the babies hatching in January and February.  We had to arrive at 7pm with a warning that we might have to wait a long time and there was no guarantee of turtles showing up on any given night.  It was still early in a season that was starting slowly due to cold water temperatures and the last one seen had been 2 nights before.  Meanwhile we were given a talk on turtles by one of the rangers there were various films and we could look at the information around the centre.
With no sign of life on the beach at around 10pm we were taken down to the seashore anyway to see some of the ways the centre tries to improve the survival rate of the young turtles, then we were given the choice between waiting a bit longer on the beach or returning.  More than half the group decided to leave, but we waited with the ranger, watching the waves for a moving rock and meanwhile seeing the moon rise.  The ranger had just said we could give it 10 more minutes when something was spotted where there hadn't been a rock before and a turtle began making its way up the beach directly towards us.  We had to carefully shuffle out of her way and she slowly passed us about a meter away on her way to the top of the dunes.  We waited quietly for sounds that she was digging her nest in the sand, but it never came.  She was unhappy with something and decided to head back out to sea.  The rangers managed to grab her and read her tag which told us that she had first laid her eggs on this beach in 2013 and had returned several times since to lay.  Given that loggerheads take 30 years to reach maturity she must have been around 40 years old.  We heard later that she came back to the beach 2 nights later and laid over 100 eggs!
Serenity was relaunched without drama on Tuesday, we got our repaired sails back from the sailmaker and put them back on and have stocked up with provisions, diesel and gas.  We are now waiting for strong winds that are due on Sunday to go through and hope to leave the marina on Monday to head south.
Spotted in the park while having lunch between rally seminars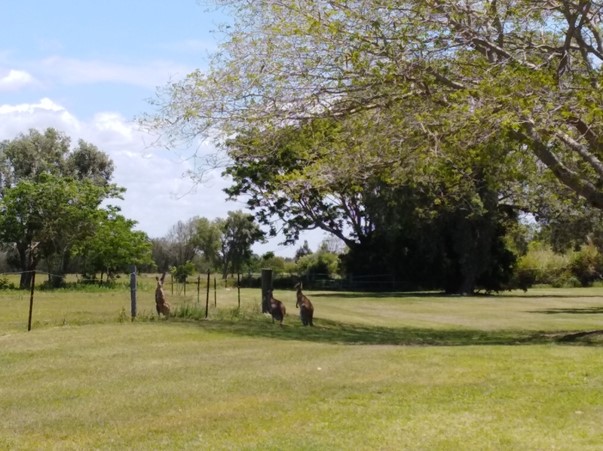 Sent from Mail for Windows
---