Nuku'alofa, Tongatapu. 21:07.5S, 175:09.8W

Serenity of Swanwick
Phil and Sarah Tadd
Sun 15 Oct 2017 01:14
Thursday was one of those days! At 7.00 am we lifted the anchor to go about 30 miles to another island. Sarah pushed the engine control lever forwards and we didn't move, she pulled it back and we moved backwards, she pushed it forwards again and we still went backwards! We put some sail up, the wind died and we stayed where we were, we motored in reverse to our old anchor spot and anchored again.
The sheath on the gear control cable had rusted away out of sight, where the cables go through a metal tube, the cable could pull but not push. We disconnected the cable so that we could change gear at the gearbox. As this means one person steering and one down below we decided that navigating to anchorages in coral was going to be difficult, you need someone on the bow with their sunglasses on looking at the water.
We set out later and came to Tongatapu overnight and are anchored off Big Mama's yacht club.
Big Mama's
On Saturday we went to town, the capital, and bought a new control cable. We have been jump starting the engine with the domestic batteries as the starter battery seems to have given up so we will replace that before leaving here.
The ferry across from here cost 10TOP each for the return trip and they will also arrange to fill fuel cans and gas bottles, and we are told do laundry.
Nuku'alofa, on Tongatapu is the capital of the Kingdom of Tonga, which is made up of around 170 islands split into 4 groups. There is not, surprisingly, any island called Tonga in the Kingdom. Saturday in Nuku'alofa had a carnival atmosphere and people were lining the streets waiting for a drive through by the Tongan Rugby League team who are playing in the World Cup. The players play for other teams, mainly Australian, and have left those to play for their own country, they were getting the heroes welcome.
Carnival time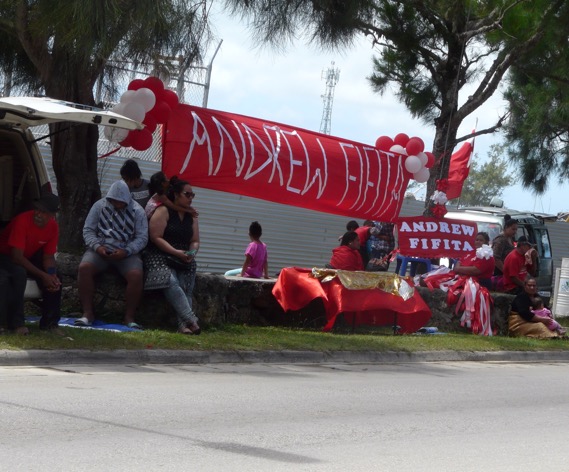 Waiting for the player from their home village.
This is our jump off point for the crossing to New Zealand so we are now looking for a good weather window, 10 days or so with no gales or contrary winds forecast. It is about 1200 miles and it is possible to stop at Minerva Reef on the way if you need to wait for the weather to arrive off the north of New Zealand.
---