A Week in Wanaka

Serenity of Swanwick
Phil and Sarah Tadd
Sun 23 Aug 2020 03:47
At the beginning of August we flew down to the South Island for a winter holiday as part of a loose group of cruisers who wanted to do some skiing and walking: there are a number of ski fields in New Zealand and we chose Wanaka as our base because it is close to two of them. We drove through this area when we toured South Island in summer a couple of years ago but it was crowded with international visitors then and we didn't spend much time there. The closed borders mean all the resorts are much quieter this year, with only domestic tourists – sad for the tourism industry, but great for us to enjoy the place.
We took the dawn flight from Whangarei to Auckland and were rewarded with the sight of the full moon shining on the river as we took off and the sun rise turning the clouds red as we came up above them. The approach to Auckland half an hour later was as daylight was beginning to show the outline of the land and the streetlights were still on. After a short wait at Auckland we caught our connection to Queenstown where we picked up our hire car for the hour's drive to Wanaka along the Crown Range Road. This stretch of road often features on the winter traffic reports when it is closed due to snow, but the last heavy snow fall had been a couple of weeks before.
Looking towards Queenstown from the Crown Range Road
We stayed in a B&B called Te Wanaka Lodge for our 7 nights in Wanaka. It was lovely and comfortable and served a great breakfast around a large dining table, so you could get to know your fellow guests and swap skiing tales.
Wanaka looking very quiet for a day in the middle of the ski season
The lounge at Te Wanaka Lodge – great for tea and cake after a day of skiing, or a glass of wine and a chat in the evening
The forecast for our first day was good, so we hired our gear and headed for the Cardrona ski field back along the Crown Range Road. The access is up a 14km dirt road that winds up the mountain around hairpin bends. As the snow line was only just down to the bottom of the ski area we didn't need snow chains on the car (the previous week they had been required to cope with the mud). We had a pleasant day enjoying sunshine and uncrowded slopes and although it didn't all come straight back to us we didn't disgrace ourselves! We finished the day with an enjoyable evening at the house six of our fellow cruisers had rented in Wanaka.
Phil shows that he can still ski. One change from our last time on the slopes was that everyone wore helmets.
We used a less good forecast on day two as an excuse for a rest day, and went for a walk up Iron Mountain (548m) with John and Lorela, two other cruisers who were also staying at Te Wanaka. It was a good leg stretch with nice views of Wanaka and north to Lake Hawea, where we had camped on our previous trip south. In the afternoon we visited Puzzling World, which boasts a number of indoor exhibition rooms and a multi-level outdoor maze. The object of the maze was to find all 4 corners (the easy option) or all 4 but in a specified order (harder). We opted out through one of the escape routes after finding 2! The tables in the café all had puzzles laid out that you could try over your tea and it was full of families all puzzling away.
The tilted room was the most fun of the indoor exhibits, and quite disconcerting.
For the next two days we opted to ski at the Treble Cone ski field, which was on the road to the Mount Aspiring National Park. On our first day there it started to snow just as we arrived at the carpark, and out first couple of runs were in white out conditions, but the snow was much needed as the unseasonably warm weather meant it was getting a bit icy and bare on some of the lower runs. The second day was Saturday and we had been warned it would be busy; there were more people around but the runs were still empty by our standards.
Zero visibility and no queue for the lift. We found that old sailing waterproofs made great ski clothing!
Empty runs on Saturday at Treble Cone
A temperature inversion hides the views of Lake Wanaka from the slopes
On Sunday we took another day off skiing and drove back into Mount Aspiring National Park to do the walk to Diamond Lake and Rocky Mountain (775m). The first part of the walk, to Diamond Lake and a viewpoint over the Wanaka Basin was a well made trail, however the final section up to Rocky Mountain was more to our taste as a narrow, muddy trail wound its way up the hillside. The way down was great fun, with bits where you had to scramble down a rocky gullies and a great variety of terrain. We opted to do the full circuit of Diamond Lake on the way down and were rewarded with a fabulous reflection of the mountains.

Panorama of the Wanaka Basin from Rocky Mountain
We sat and enjoyed this view for a while before completing the descent to the car
New Zealand has one cross-country skiing area on the opposite side of Crown Range Road from Cardrona, and we had booked ourselves a lesson on Monday morning. This was skiing on skinny track skis rather than the wide backcountry skis we are used to. After an hour's instruction we took off round their well groomed trails. Like the downhill resorts they desperately needed more snow, but there was enough for a day's skiing. After about four hours we were both ready for a day off!
On the cross country trails at Snow Farm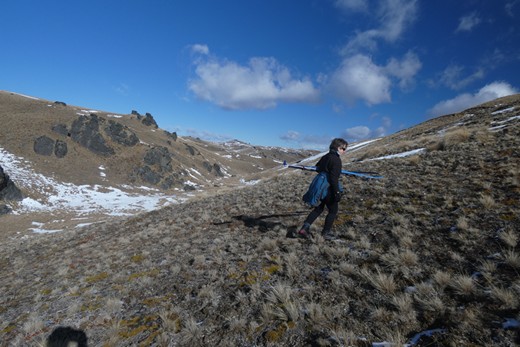 The joy of lightweight cross-country skis. You can carry them when you want to short-cut!
That was the end of our time in Wanaka. It was a very photogenic spot, so here are a few bonus photos:
From the side of the road to Treble Cone
The lakeshore in Wanaka on our first day
The most photograped tree in New Zealand – it even has its own hashtag #thatwanakatree. Sadly diminished since being vandalised recently.
We returned to Queenstown on Tuesday, ready for our flight home on Wednesday. We used the day to go up Queenstown Hill to the Time Walk and Basket of Dreams – installed to celebrate the Millenium, then drove 44km alongside Lake Wakatipu to Glenorchy for lunch. We had been told it was a beautiful drive, and it was.
The Basket of Dreams on Queenstown Hill
Looking towards the head of lake Wakatipu from the road to Glenorchy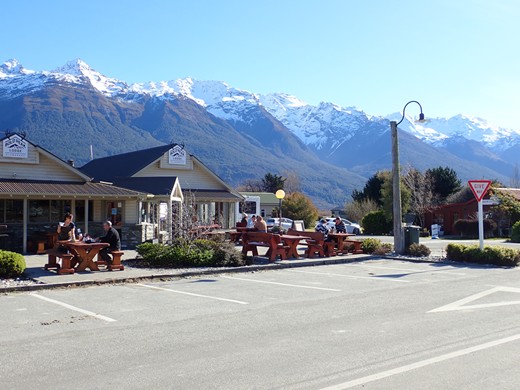 Glenorchy is in a stunning setting at the lake head, but felt a bit like a deserted frontier town without the tourists. Before the road was built it was only accessible by boat and was a farming and hunting area.
On Monday we met the other cruisers for a meal in a local pub, then returned to our rather shabby motel to make sure we were packed. It took a moment to understand what we were seeing on the news: there were 4 new cases of Covid 19 in Auckland and the city was going to go back in to level 3 lockdown from midday the next day, with the rest of the country going to level 2. Non-residents were advised to leave Auckland and there would be road blocks to stop residents leaving except on 'essential' journeys. We were due to change planes in Auckland in the afternoon. After an anxious night all went very smoothly, although the our flights were both packed with people escaping the city and there was little on offer by way of catering, and we got back to Serenity hungry but having had a great holiday.
---