Christmas into New Year 36:12.16S, 175:21.15E

Serenity of Swanwick
Phil and Sarah Tadd
Thu 2 Jan 2020 23:23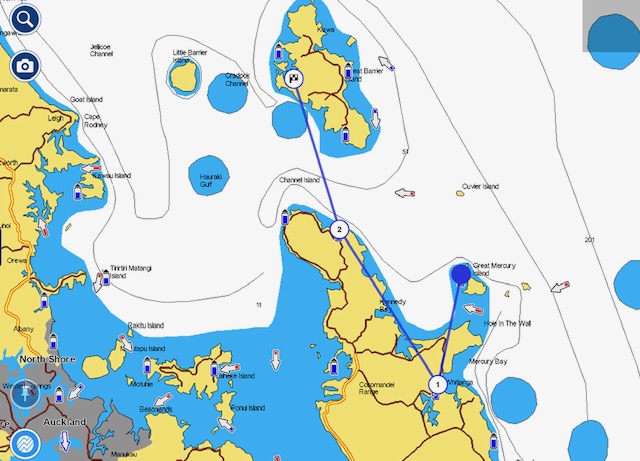 Having spent Christmas Day on Great Mercury Island our next passage was down to Whitianga to meet up with Bill Andrew, a colleague of Phil's from CCF sailing instruction. Bill was visiting his sister and brother in law who have a B and B in the hills north of Whitianga.
We anchored off in Flax Mill Bay to wait for some rise in the tide for crossing the shallows and to make getting up the harbour easier and then, following the harbourmasters instructions, moved to anchor up past all of the moored boats in a quiet area of the harbour. The first night was good and we were comfortable anchored in about 4m with a mud bottom.
On Friday Bill came to see us and provided a welcome taxi service to the supermarket and in the evening we were invited to 'Stargazers' B and B for a family meal. Bill's brother in law Alastair, formerly a geologist, has set up an observatory, planetarium and geological collection. He offers Astronomy Tours in a addition to the accommodation.
We had a delightful meal with Alastair, Harriette, their son with his family and Bill before returning to Serenity for the first of two windy and bouncy nights. The SW wind seems to be compressed into the harbour and when this meets the incoming tide sets up a very uncomfortable choppy sea. We escaped from 'Windyanga' on Sunday and returned to Port Charles for some respite from the wind.
Sandy Bay in Port Charles was relatively quiet but swell coming in from the NE caused us to roll badly, apparently the whole E coast was suffering this swell despite the wind having been offshore for days. On New Year's Eve we came up to Great Barrier.
Kiwiriki Bay is one of a number of bays in Port Fitzroy and we will probably stay in this area for the next week while more strong winds blow through.


New Year's Eve for us was quiet, after four sleepless nights it was catchup time. Great Barrier Island is a favourite place for Auckland boaters and all of the bays were pretty full, we heard fireworks at midnight but didn't bother getting up.
Sent from my iPad
---