Friends and Adventures 39:8.2S, 175:38E Part Two, Tongariro Alpine Crossing

Serenity of Swanwick
Phil and Sarah Tadd
Fri 26 Jan 2018 06:57
Having rested from our canoe trip, cleaned up and dried out, we moved a short way back north to the village of National Park. The mountain area here was taken back from the settlers by the Maori's and then given to the country to form the first National Park in New Zealand. It is an active volcanic area, Ruapehu last erupted in 1995 and Ngauruhoe (Mount Doom in Lord of the Rings) in 1974.
We went up to the visitor centre at Whakapara village and stretched our legs to yet another waterfall in preparation to doing the Tongariro crossing.
The crossing is a one way walk and you have to take a shuttle bus to the start, this also collects you from the finish, the car parking at the start is limited to 4hrs but the buses pick up from a number of places in the area.
Mount Ruapeho
There is a lot of board walk along the path and steps to keep you on track and prevent erosion by the thousands of people who do this popular walk.
The South Crater
Mount Ngauruhoe (Mount Doom)
Red crater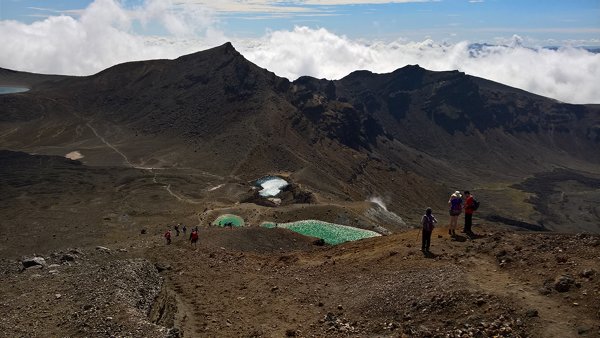 Emerald Lakes
Smoking vents
The view back from Central crater to Red crater and Ngauruhoe
The descent from Red crater was on very loose scree and we were pleased that we had worn boots as we overtook people in trainers and sandals! The walk is 19.5 km with about 1000m of ascent, the forecast was for low cloud and rain, luckily the forecasters got it wrong.
Having completed the walk we were back in the car for the drive back to Whangarei, stopping to pick up upholstery fabric on the way (Sarah's big project). We were back in plenty of time to be able to run with the Whangarei Hash on Tuesday, a long run/walk of 10km and 600m of ascent (Sarah took the shorter walk).
An ex colleague of Phil's, Penny, and her husband Duncan are visiting New Zealand and came to stay with us for two nights. Penny helped Phil with Ten Tors training for a number of years. A very pleasant two days with some gentle local walking.
Sent from Mail for Windows 10
---