A week in Bundaberg

Serenity of Swanwick
Phil and Sarah Tadd
Wed 28 Sep 2022 06:53
Released from Quarantine we moved to the next pontoon, finding on the way how shallow the marina is in places, but it was soft mud so it didn't matter that we were sitting in it at low water.  Bio-security had taken away all our remaining fresh food and the café in the marina only opened in the evening at weekends, so we decided to stretch our legs by walking the 2 miles to Burnett Heads and the Lighthouse Pub for supper.  It was a pleasant walk along the riverfront and a nice meal in the pub, then back to Serenity for an early night.
In the morning we planned to take the marina courtesy bus into the town of Bundaberg, 12km away, but nobody told us we needed to sign up in advance.  Our neighbour on the pontoon heard our dilemma and offered us a lift as he was going in himself.  Learning that we wanted a cheap suitcase for our trip home he took us first to the charity shop and then on to the supermarket for a food shop and then offered to come back and pick us up in an hour to go back to the marina.  People are so kind.
Several hours on the internet and several visits to the marina office and we had booked to have Serenity lifted out the following Tuesday and to fly to the UK from Brisbane two days later, so we now set about getting Serenity ready to be left in dry storage for 6 weeks.  We took the sails off and took them to the local sail loft to be checked over, removed everything movable from the decks and rinsed them of salt ready for storage below, scrubbed all the canvas covers and finished cleaning below.  By Friday we were feeling sufficiently prepared to take time out to be tourists.
Our first visit was to the Flying High Birdpark where we had hoped to see lots of native Australian birds, so were a bit disappointed to find it was more of a bird zoo with lots of exotic species.  We did get to identify some native birds and also saw our first kangaroos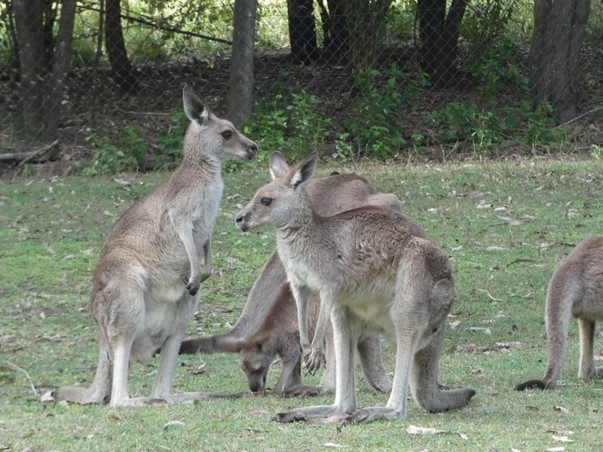 Our first sighting of kangaroos
This little parrot took a real fancy to Phil and wouldn't leave his shoulder
The next day we drove to the Mon Repos turtle centre.  It wasn't open as the turtles don't return to the beach there until October, but we had a nice walk around the bush trails and we have booked our night time turtle tour for when we return in November.
Sunday was a beautiful, hot day and we drove to the Bundaberg Botanic Gardens and the three tourist attractions there.  The first is a museum dedicated to Bert Hinkler, born in Bundaberg he was a pioneer aviator who designed and built his own gliders. He moved to England and worked for Sopwith Aviation in Southampton, served in the RNAS during the first world war then made record flights to Australia and across the Atlantic.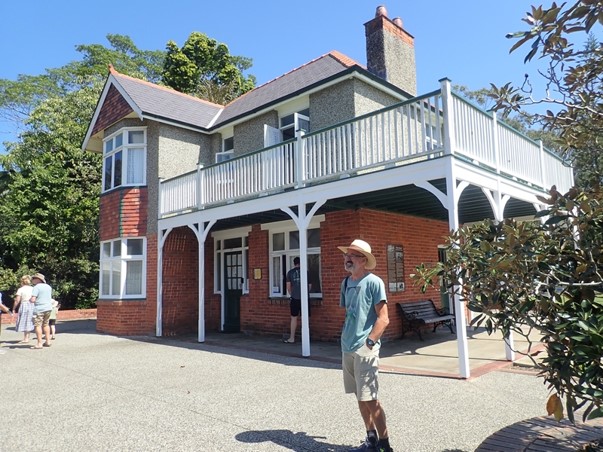 Bert Hinkler's house which he had built in Southampton and which has been relocated to the Botanical Gardens in Bundaberg.
Fairymead House is an old sugar plantation house, now turned into a museum.  More information about the production of sugar than we needed!
Tuesday morning we were up early, Serenity was lifted out of the water and moved to dry storage, and her covers put on, then we caught the bus into Bundaberg as a start for our journey to UK. We had to stay overnight in town as the first available train to Brisbane wasn't until Wednesday mid-morning. Sarah found a guide to a town walk and having left our luggage at the motel we went out to look at some of the historical buildings. Bundaberg is known for its Rum and its Ginger Beer. The area around is a great growing area for Sugar Cane which is processed locally to produce sugar and the waste molasses are used to make the rum.
Bundaberg Post Office
Catholic Church
School of Arts
Wednesday we travelled to Brisbane by train, and flew to London via Qatar, eventually arriving in Honiton on Thursday evening.
---