Windows, visas and spring. Pomare Bay 35:16.8S 174:07.9E

Serenity of Swanwick
Phil and Sarah Tadd
Mon 7 Sep 2020 04:56
Having waited two months for our new boat windows we have actually had them fitted. What a difference. The old scratched and crazed acrylic has been replaced with toughened glass in new frames, we can now see out. Fitting did entail us living with plywood covers over the holes for a week as we waited for good weather for the fitting to take place but worth it in the end. Hopefully this is the last of the major refit jobs that we will doing for a while and with spring starting this month we get back to sailing.
The temporary visa extensions given by immigration at the start of the COVID19 pandemic are due to expire this month and the indication was that we would have to apply for further extensions but we could apply for up to 12 months. Filling in the forms on line is a job that we did before back in 2018 so it was quite straight forward but of course we had to gather together all the relevant pdf's and photos required to prove that we are good people who will not be a burden on the country. We also needed medicals with chest X-rays and blood tests as we will be here for over a year in total. All arranged, application sent off with payment, and now they have just decided to give everyone an automatic extra 5 months. Grr, still we will see what comes of our application maybe they will give us the full year.
We left Whangarei 10 days ago to head north to Bay of Islands and maybe Whangaroa Harbour and the Cavalli islands, two places we haven't seen yet. Hoping that with no pressing time deadlines we could afford to hang around in sheltered anchorages waiting out any poor weather we get and not have to rush down to Whangarei again for a while. We stopped off in Parua Bay to call in on Colin and Marjorie, two friends we have made here, then a night in Tutukaka and on to Whangamumu Bay. We had been here before on our way south but this time it was quiet, only a couple of other boats and we took advantage of the stop to do a good walk around The Loop, about 8-9km with a lot of climb and a secluded cove for lunch. While in Whangamumu we got the news that Phil has to have a Cardiologists report to go with his visa application so we will have to go back to Whangarei at some point, not too difficult by road from Bay of Islands so we wont rush back. After another stop and more walking on Urapukapuka Island we are now near Russell waiting for a low pressure system to pass through.
Whangamumu Harbour, Cape Brett. Showing the Loop track
Whangamumu Harbour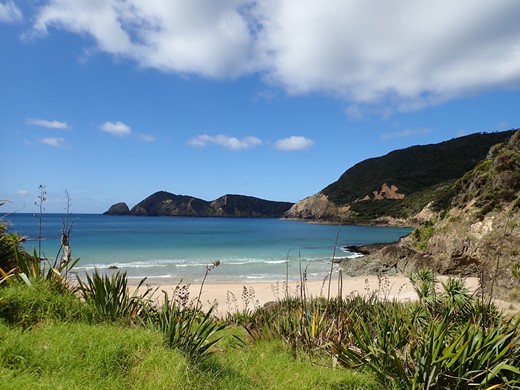 Te Toroa Bay, lunch stop where we saw a seal.
Bay of Islands from Cape Brett track.
Sent from Mail for Windows 10
---