Great Bird Island. 17:08.7N,61:43.8

Serenity of Swanwick
Phil and Sarah Tadd
Tue 3 May 2016 00:38
As we were getting ready to leave Jolly Harbour on Sunday, air horns were being sounded around us; a group of Scandinavian boats were leaving to cross to the Azores and this is the usual way of wishing good luck at the start of a long passage. We had to wait our turn in a queue of boats for the dockmaster to come and cast of our lines from the piles and see us out.
We were heading for North Sound, and had a great sail, tacking up Boon Channel between the off lying reefs and the shore. We had been told that there were lovely unspoilt anchorages up here, but as we took the sails down and started motoring down the channel in Parham Sound we were doubtful, because we could see the airport, a fairly industrial looking area, and a ship all decked out in massive inflatable toys and slides into the water. However as we turned into North Sound itself it all came good. We wound our way through the shoal patches and dropped our anchor just off Great Bird Island, just behind 'Tern', with only two other boats in the anchorage for neighbours.
Great Bird Island is only great in comparison to the surrounding islets: it is less than a kilometre long in both directions, and 100ft high, with two blow holes going from the top to sea level. It is a protected area, and when we went for a walk we saw Tropic birds, lots of lizards and hermit crabs, but didn't see the Antiguan Racer snake. It was a bank holiday, and there were a couple of boat loads of local people spending their holiday on the beach complete with barbeque and kettle of boiling water to cook the live crabs!
We spent a couple of very pleasant evenings with Larry and Manice and then on Tuesday morning waved goodbye as they returned to Jolly Harbour. We did a bit of snorkelling, but didn't find it as interesting as it had been in the Virgin Islands, so by midday we had also got our anchor up and were heading south again.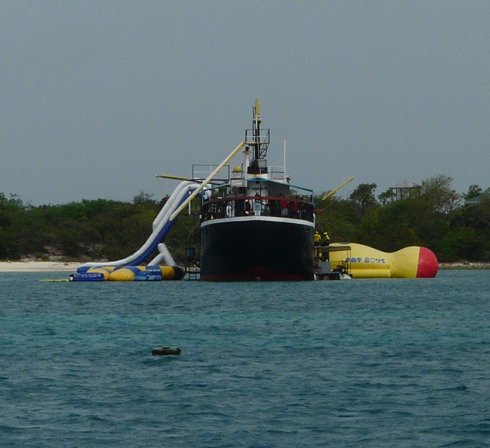 ---