Perth and Margaret River

Serenity of Swanwick
Phil and Sarah Tadd
Sun 16 Apr 2023 07:19
Serenity's mast was put back on Monday midday and we spent the rest of the day getting the sails back on before motoring back to our mooring. On Tuesday morning we got Serenity ready to be left for 10 days: hoisting the dinghy on board, laying up the water maker and turning off seacocks and gas, then caught the marina water taxi, bus and train to the south side of Sydney to a hotel near the airport. Our flight to Perth was at 7.15 the next morning and it would have been an early start if we'd had to get across from Northshore. We have found public transport here mostly very good and easy to use, just tapping on and off with our credit card for each journey.
When me (Sarah) and my sister, Lynn, were children and our parents were working in Malawi we had to go to boarding school in the UK and spent a lot of holidays with our cousins, Jenny, Tory, Chum and Susie.  Chum and Susie moved to Australia 40 odd years ago and raised their families here, and our trip to Perth was to visit them.  Jenny's son Ben, who we saw in Wellington before COVID is also now living in Perth, an added bonus to the trip. We stayed with Chum and her husband Billy and enjoyed family dinners, lunches, a picnic in the park walks on the seafront and visits to some of their favourite sites.  Billy showed us how he makes his amazing organic dark chocolate and his Kombucha and there was plenty of time to reminisce about family, schools and pony trekking in the Welsh mountains and to get to know the younger generations.  Susie's daughter, Brionny, has a stylish hair and beauty salon which we visited, and on our last day everyone who was free gathered at Susie and Sean's house for an afternoon party
With Chum and Billy
Cousins.  Susie, Chum and Sarah
By the lake in Neil Hawkins Park with Ben, Chum, Billy, David, Nina, Phil, Torielle, Zara and Taya
After family lunch with Chum holding Bethany, Josiah with Grace, Caitlin, Susie and Billy
We couldn't travel across Australia without seeing something of the western side so we visited Perth city for a walk in King's Gardens and a visit to the Museum of Western Australia.  We also went to Fremantle, home to lots of historical buildings and a great market.  Its an Australian habit to shorten names and add an O to the end, so Fremantle becomes Freo.  The ultimate example is the Salvation Army charity shop, or Salvos.
Elizabeth Quay in Perth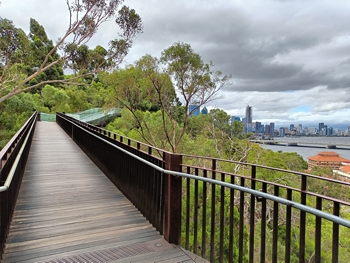 The view from Perth's King's Gardens
Art Deco buildings in Fremantle
In the middle of our stay we gave Chum and Billy a break from our company and drove to Margaret River for an 3 night trip.  About a 3 hour drive south of Perth, Margaret River is a popular holiday area known for its vineyards and beaches.  It is a limestone area so has caves, with Caves Road linking Cape Naturaliste, to the north and Cape Leeuwin, in the south.  There are also magnificent forests of native trees.  Our trip included: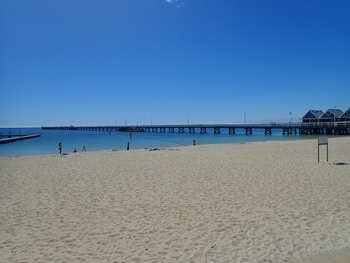 Busselton Pier – the longest pier of some sort somewhere.  They had to keep extending it into deeper water as ships got bigger.  It is now just under 2km long.  Warm water is brought down to here by the Leeuwin Current meaning that corals and tropical fish can survive.  There is an underwater observatory at the end of the jetty where you can see coral on the posts supporting it, with tropical fish swimming around.
Beaches, of course: getting ready for a swim in the Indian Ocean at Indijup Beach
Dwarfed by the giant trees.  Spot Phil in the middle
The stingrays and eagle rays at Hamelin Bay are incredibly tame.  This giant eagle ray kept going for my toes as I stood in the shallows
The Lighthouse at Cape Leeuwin, one of the southern hemisphere's Great Capes and where the Southern and Indian Oceans meet
Our cabin in the woods for our second night away, with the hens for company.  As we sat on the veranda with a glass of wine as the sun set we were watched by a kangaroo and serenaded by some of the loudest kookaburras we have heard
Wellington Dam wall painted with huge murals. 
We saw lots of these all over the place
Santi Ikto  is the first of the Giants of Mandurah.  You get a guide book from the Tourist Centre which guides you to the first four Giants placed around Mandurah.  You pick up clues from these that allow you to find the fifth.  We only had time to find two, which were incredibly impressive pieces of art.
A beautiful evening for our last night and we went out in East Perth to see the sights and have a pizza with Chum, Billy and Ben
We returned to Serenity on Easter Saturday and despite our plane taking off about an hour late a tail wind and Sydney's great public transport meant we were no later than expected getting back to the marina at Church Point.  The marina staff had left one of their dinghies out for us so we rowed back out to Serenity in the dark (no torch or lifejackets – fineable offences in New South Wales).  It was a lovely 10 days filled with laughter and the love of family.  Thank you to all my fabulous Aussie rellies.
---