Ciudad Perdida Trek, Days 1 and 2: 11:02.17N, 73:55.31W

Serenity of Swanwick
Phil and Sarah Tadd
Sun 19 Feb 2017 03:20
The Lost City, in the Sierra Nevada de Santa Marta was founded around 800AD, and inhabited by the Tayrona Indians until the 1600's when it was abandoned as the Spanish invaders pushed the Indians higher into the mountains. It was rediscovered in 1972 by treasure hunters and came to the attention of archaeologists when looted gold began appearing in the towns. The indigenous Indians – descendants of the Tayrona, knew of the city and visited it regularly.
The city stands at between 950 and 1350 meters above sea level and is a 23 kilometre walk along dirt tracks and jungle paths. The tour companies offer 4, 5 or 6 day treks, which all cover the same ground but you take more time on the 5 and 6 day options. We chose to do it in 4 days, as we wanted to be back at the marina to deal with customs.
Day one started slowly, as the group was gathered together, and it soon became obvious that we would be the oldest by 35 years. The others were young people from all over Europe, as Colombia is becoming a really popular backpacking destination. The hike begins at the settlement of El Mamey, which is at the end of a dirt track of hairpin bends with steep drops. We were a bit anxious to realise that we were going up in a minibus, while all other groups were in 4x4's, but our driver, Millar, had obviously done it before and a very bumpy hour later we reached the end of the road.
Mamey – only walkers, mules and motorbikes beyond here
We were given a very good lunch – most of the meals we had were rice, beans and meat or a veggie alternative, and in substantial proportions – before we set off on the four hour hike to our first overnight camp. The first part was a steady uphill climb on a dirt track in the sun, occasionally being overtaken by mules or motorbikes.
Our provisions on the way up to the overnight camp
We set off into the mountains
Just as Sarah felt she really needed a break we came round a corner to a ridge and found the first rest stop. Throughout the trek these were placed strategically at the top of steep climbs and we were given fruit, such as watermelon or oranges, and could buy cold drinks.
The watermelon was sweet and juicy – perfect at the top of a hot climb
We came down a steep slope to our first camp about half an hour ahead of the expected four hours (the group were mostly fast walkers, despite completely unsuitable footwear and Sarah was overtaken on all the uphill sections) which gave us extra time for a swim before supper (another full cooked meal). After our supper one of our guides, who had been a farmer in the area (growing Coca among other things) gave us a talk on the culture of the indigenous Indians. Sadly he only spoke Spanish and some of what he said was lost in a poor translation – but still interesting. Tourism has helped to turn the farmers away from growing narcotics, but there is still some grown for local use.
Downhill to camp 1
Sleeping arrangements
Who needs showers?
On the second day we were up at 0530, and walking by 0630 after a breakfast of fresh fruit (papaya, melon and pineapple) scrambled egg and toast, and a cup of great Colombian coffee. It was supposed to be a 3 hour hike, but we covered it in 2 hours, so had a 2 hour break before our lunch at 1030(!). Lucky there was a swimming area in the river nearby. After lunch we had a 5 hour hike to our overnight camp which we completed in four and a half hours. This day was very tough, with two very steep and prolonged ascents, before going back down to river level again. We were lucky that the sky was overcast, as otherwise it would have been even harder.
Strangely, we don't have any pictures of the really steep ascents.
Stunning views to help keep you going
Walking in the jungle
Crossing rivers the high way...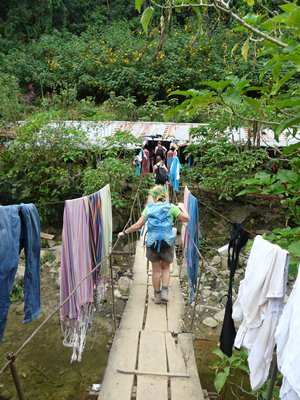 ...the dry way...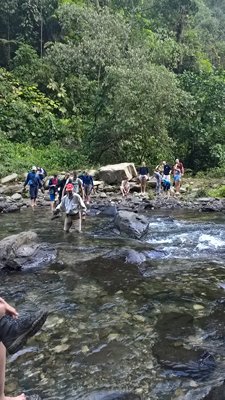 ...or any way you can
This was the final camp – only a couple of kilometres from the Lost City, so was quite crowded with groups waiting for their turn to go up in the morning. Although the camp was only about 300 meters above our starting point at El Mamey, we had climbed a lot more than this and were ready for an early night ready for another early start.
---