Whangarei, caves and bicycles. 35:43.4S, 174:19.6E

Serenity of Swanwick
Phil and Sarah Tadd
Thu 1 Apr 2021 01:26
Back in Whangarei from the boatyard but without a car we used the time to clean and polish Serenity. The UV is pretty harsh here so the fibreglass needs protecting regularly with polish, we took the time to apply two coats of wax all over the hull and special non-slip polish on the decks, a long process but she now looks really smart. The car had been in the garage for almost three weeks before they eventually worked out a repair for the electronic fuel system and it was returned to us. The problem had proved difficult to pinpoint and a number of fixes had been tried, thank goodness it was all under guarantee from when they replaced the fuel pump last year. We gingerly tried it out on ever increasing length journeys.
One early trip was to Waipu caves, known for their glow worms which unfortunately don't photograph very well but in the inner chambers they were impressive.
Waipu caves
Having orienteered near Auckland last year and both made a real mess of the navigation, we went back to the area and competed again. A bit better this time on a shorter and easier course. We have also competed locally a couple of times on evening runs, good to get the exercise with a bit of brain work. The local club has a good number of youngsters who run in their short evening competitions and during the winter on their regular Sunday competitions.
We thought we ought to start trusting the car and booked up cycle hire and hotels for the Twin Coast Cycle Trail, an 80+km cross country route from Bay of Islands in the east to Hokianga Harbour in the west. We had been told it was good by another couple of sailors who took the options of shuttles to the mid point on both days and the basically downhill runs to the coast in either direction, I think they also hired E-Bikes. This seems to be the favourite way to do the route but it seems like cheating to us so we went from end to end.
Wairua falls, an interesting stop on the way to Horeke
We had three stops on the way to our first nights hotel, Wairua falls, Wairere Boulders and Mangungu Mission house. The falls are just off the main road and although not very impressive from the top are quite good from below. The Boulders are on a farm near Horeke and are unusual in being waterworn Basalt, they look very much like weathered limestone such as you find in cave areas but these are waterworn from acidic water formed by the river running through areas of Kauri forest over millions of years. You can spend a few hours here following the various trails.
Wairere Boulders
Painted rocks and roots, add to the interest.
Mangungu mission house
Mangungu on the Hokianga harbour was established in 1828 as a Wesleyan mission station and was the main landing place for settlers in the early days of European arrivals in New Zealand. The harbour is now largely silted up and a much quieter place than it would have been then. It was also important as one of the locations where the Waitangi Treaty was signed, by which New Zealand became part of the British Empire – still a controversial issue here.
Twin Coast Cycle Trail. We went from Opua to Horeke with an overnight stop in Kaikohe.
We stayed at the Horeke Hotel on our first night and hired bikes from here Pete and Laurel who now own the hotel have set up a bike hire and shuttle business taking people to points on the trail to start their ride and picking up again later. A very comfortable night with good food and company.
We had a family room, much larger overall than Serenity.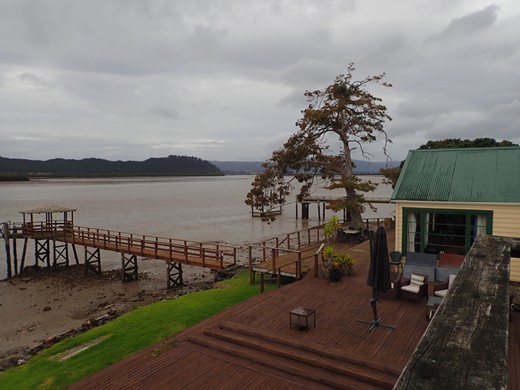 View of Hokianga Harbour from our hotel room.
On Monday we were driven over to Opua to start the ride which follows the old railway line most of the way, a short section of this is in use with a train running pleasure trips into Kawakawa.
In use section of the railway.
Kawakawa is famous for the Hundertwasser toilets. Hundertwasser, Austrian visual artist and architect who settled in New Zealand.
Following the railway means a gentle ascent on day one.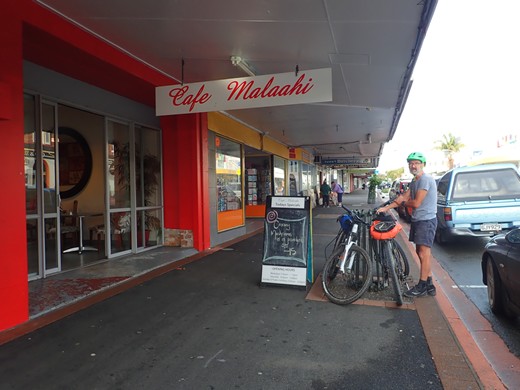 Kaikohe, where we stopped in a motel overnight
Mainly downhill from Okaihau to Horeke through farmland, a more interesting day.
Boardwalk through the mangroves to Horeke
This enterprising woman has set up a small outlet in Horeke for local crafts and supplies cold drinks. At the moment there is nowhere else here for refreshments.
Finishing the ride in Horeke we handed back our bikes and drove back to Whangarei, slightly tired and saddlesore.
We have recently been granted visitor visas through to the end of September, so feel more comfortable about the next six months. With that settled we will head south on North Island with a camper van hired for three weeks from Easter Saturday.
---