Whangarei, Birthdays and then out to Great Barrier 36:11.8S 175:19.14E

Serenity of Swanwick
Phil and Sarah Tadd
Sat 17 Oct 2020 22:16
Leaving Russel on Sunday after the strong winds had gone through we started our slow return south. We needed to be back in Whangarei next week. Stops were made off Urapukapuka Island and Whangaruru where we repeated the Bland Bay Lookout loop walk. Then on down to the entrance to Hatea River and a night in Smugglers Cove. This is a cove outside the river sheltered from the north, it has always looked inviting but this is the first time we have actually stopped. We then moved up to Munro Bay on Thursday and met up with Thomas and Inge on Saga for a late celebration of Inge's birthday.
On Friday we went into Parua Bay for fish and chips at the Parua Bay Tavern, and a beautiful sunset
Up to town on Saturday and a mooring outside Quay Restaurant, lively during the day but thank goodness Kiwis don't stay out late, it was generally quiet by 9.00 pm. While we had been away progress had been made on the new Hundertwasser Art Centre and part of the wall had been uncovered. Hundertwasser was an Austrian artist who settled in New Zealand and made a name with his architectural designs. He apparently called straight lines 'godless and immoral'. The outside of the Art Centre will be a mosaic of tiles and the team of tilers have a free hand to be creative – they are just not allowed to use straight lines.
One wall of the Hundertwasser Art Centre uncovered
We had a few things to do in town and were intent on only staying a fortnight, Phil had a Cardiologist's appointment for our immigration medicals which luckily showed no problems and a heart which was in excellent condition. We now wait to hear if they will give us a long extension to our visa's.
Sarah's birthday on Friday and we had a meal at Splitz, a small restaurant in town, well recommended with friendly staff and a good menu. Phil had been given instructions to collect a cake from town, ordered by Sarah's family from UK, but it was impossible to sneak it on board and hide it so Sarah actually saw it on Thursday. Very delicious.
The following Thursday, before we left to go out sailing again our friends Jane, Peter, Marjorie and Colin were due to visit for afternoon tea. Jane and Peter arrived and apologised for Marjorie and Colin. Marjorie had fallen while picking lemons to give to us and broken some ribs, she was in hospital. Colin turned up later to deliver the lemons and some kale from their garden. The lengths some friends will go to.
We are now out on Great Barrier Island, we crossed on Wednesday having waited in Munro Bay and Parua Bay for good weather. We have tried out a new anchorage in Oneura Bay, which was very sheltered from the south and are now in Smokehouse Bay. The weather is glorious but still cold at night and we have been walking on the headland between the two bays with great views out past Little Barrier to the mainland about 40 miles away.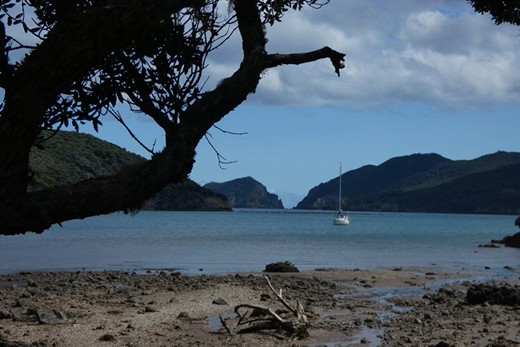 Serenity in Oneura Bay
Man O war passage, the entrance to the main bay on Great Barrier.
View from the ridge, Opaku Island, Little Barrier Island and the mainland in the far distance.
---