May 2021 - In and out of Whangarei

Serenity of Swanwick
Phil and Sarah Tadd
Sun 30 May 2021 02:50
Our plan following our road trip had been to spend May and June sailing north to Bay of Islands, Whangaroa and further north if possible, but circumstances have been against us and we have had to come back to town between outings.
After we returned to Serenity on 21st April we managed to get away quite quickly and on the 24th we were anchored down the river in The Nook and the following day (ANZAC day in New Zealand when people who died serving their country are remembered) we had an excellent sail to Great Barrier Island. It was a blustery day and we were kept busy with sail changes but probably made the fastest passage we ever have for that trip. Our first night at Smokehouse Bay was quite noisy with the bank holiday crowds partying on their boats, but after most of them went home on Monday we enjoyed a lovely quiet week around the various bays revisiting walks we had done before. Our sail back was not as fast as the outward one, but still enjoyable.
The waterfall outside Port Fitzroy was no more impressive than the first time we visited it
But it was worth the walk for an icecream at the Port Fitzroy General Store
We enjoyed the views and the peace at the Muangapiko lookout
Kaiaraara Bay is worth a visit just for the name, but also for the views up towards Mount Hobson
Cool evenings and mornings and some amazing fungi on our walks showed that autumn is here
Approaching the now familiar entrance to the Hatea River and Whangarei
Phil enjoys the sail home
One of the reasons for coming back to town was to have our first COVID vaccination, which all went very smoothly once we had managed to get through on the phone to book our appointment. We stayed in town long enough to go orienteering just north of Auckland: a great fun yomp around a wet, overgrown, hilly forest, and to see some friends: Jo and Rob had to leave their boat 'Double Trouble' in Fiji last year and fly home to NZ for some urgent medical treatment. They now want to get back to Fiji to sail DT home and the plan was that they would get there by sailing up on 'Muskoka', which is moored in the other marina in Whangarei. Muskoka's owner flew back to Canada just before the start of the pandemic and now can't return to NZ, but could fly in to Fiji to meet up with his boat. A cunning plan until Fiji went into lockdown due to an outbreak on the main island, Viti Levu, which is all part of the uncertainty of travel at present.
We left the town on the 9th of May with the intention of sailing south to Kawau Island for a few days, but the weather wasn't good for it (light winds, adverse winds, lots of rain) so we decided to stay around the anchorages in the river instead. We managed a walk we hadn't done before, up Mount Aubrey, revisited the circuit of Busby Head and Smugglers Cove at the river's mouth, and had a nice lunch with our friends Colin and Marjorie who live in Parua Bay, then it was time to return to the town for Phil's 70th birthday and our second COVID jabs.
It was wet the day we walked up Mount Aubrey so we didn't take many photos. In a brief clear spell we got this view up the river, including Parua Bay on the right of the piciture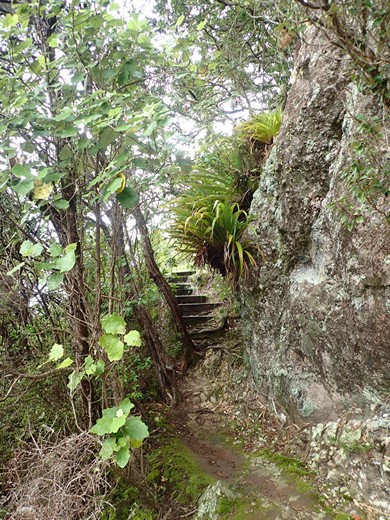 The path up Mount Aubrey was steep, but enjoyable
Phil organised the run for Whangarei Hash House Harriers the night before his birthday and, with most of the group, we had burgers and a drink at the Butter Factory afterwards. This is a bar in town based in an old building where they do music nights and, on Tuesdays, burgers for about £7. On Phil's birthday we had a leisurely morning with coffee on the Quay then a more busy afternoon, walking up to the top of Parihaka, then some friends on board to share the birthday cake Sarah's family had arranged. In the evening we had a pleasant meal out at Split restaurant a short walk away in town, but weren't able to do justice to their portions!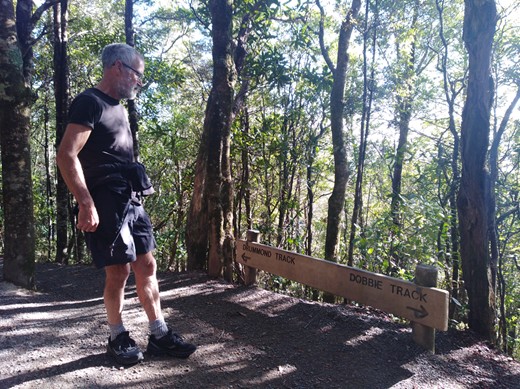 On the descent from Parihaka: which track shall we take today
Our COVID jabs were the following week. Phil felt OK after his but Sarah was wiped out for 24 hours with chills, headache and muscle aches. We are pleased to be protected as we think it will become important when we are able to travel again. There is now a quarantine free travel bubble for flights between New Zealand and Australia, but you still need a 'compelling reason' to travel to Australia by sea. We are hoping that the maritime border may open up before too long and have started the process of applying for visas, as it could take several months. Our next step is to have medicals which will involve driving down to Auckland on Tuesday, after which we hope to finally get a longer period away from the marina.
Whangarei is a lovely place to stay but, at present is not a peaceful one as there are a lot of projects underway. The Town Basin is being dredged as it hasn't been done properly for a few years and it silted up between the pontoons in a big storm last year. This means the marina staff are having to juggle yachts around to clear space for the work and if you are close to the barge it creates a lot of wash, noise and mucky water. There is also building work ashore – a long term project to build a new Arts Centre designed by Austrian/NZ architect Hundertwasser before his death(we posted pictures of the public toilets he designed on 1st April), plus various improvement works connected to the Hudertwasser Centre or part of New Zealand's COVID recovery works. In the last week they have also been using a pile driver to replace the piles that hold some of the pontoons in place.
The dredger is a digger sat on the front of a barge
And the barge is driven by a tug. The way they manoeuvre the whole assembly through the crowded marina is amazing, using the digger arm in the water as a pivot or to pull in a particular direction.
The Hundertwasser Arts Centre rises above the cafes of the Town Basin. The exterior walls are tiled – a job done by a team of tilers drawn from all works of life with the instruction to avoid straight lines. A golden dome is going to be placed on top of the tower – probably during June.
The newly created green space was a tatty public carpark before Christmas.
The two areas will be joined by new riverside decking and footway. This picture was taken at high water – the concrete they have laid for it goes down a long way!
We saw a working model of the rolling ball clock last year and it was fascinating. I hope we get a chance to see the real thing. In the background is the new children's playground, completed at the end of last year.
Pile replacement work on the catamaran dock. Just waiting for Monday to start work again.
---