Back to town. 18:39.6S, 173:59.0W

Serenity of Swanwick
Phil and Sarah Tadd
Sat 30 Sep 2017 21:18
We spent two nights in the lovely anchorage at Lisa Beach, the second day and night we were alone there, and apart from voices from over the hill, and the sound of birds and bats, the only noise was what we made ourselves.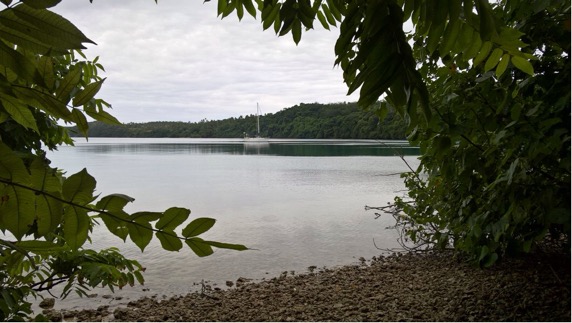 Serenity alone in this peaceful anchorage
The only building ashore was derelict
We went for a drive in the dinghy along the coast - low cliffs, caves and clear blue water.
Tuesday morning (we are now in time zone GMT + 13, having crossed the date line on the way to Tonga) was sunny with a lovely breeze, and we had a great sail back to town. In a straight line it was a couple of miles, but we had to sail 12 miles to get there; south to get round the bottom of Kapa Island, then back north between lots of small islands, then finally tacking (zigzagging to get to windward) along the channel and through the narrows into the lagoon. We hadn't planned on sailing through the narrows, but a small boat in front of us was, and the competitive spirit came out. It was great fun.
Amost all yachts heading for New Zealand will come through Tonga at the end of the season, as Tonga and Fiji are the two logical start points for the passage south, so the moorings here have been steadily filling up and there are regular bun fights as yachts dash to take over any mooring that becomes free. There are many boats here that we have seen as we crossed the Pacific, including some that we haven't seen since Panama.
On Wednesday morning a weather system came through bringing torrential rain and gale force winds. It only lasted 2 or 3 hours, but there were some frayed tempers as yachts swung close to each other in the strong and gusty wind. We managed to catch enough water for a load of laundry.
The sun doesn't always shine in paradise.
This week is the Vava'u Blue Water Festival; a week of fun events, plus information on sailing round here and on the passage to, and entry formalities in, New Zealand. The opening event on Friday was a barbecue at the boatyard.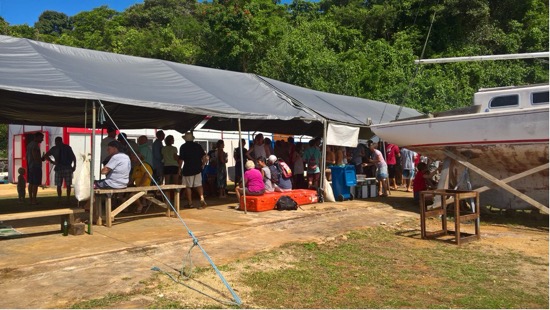 Cruisers gather under the awning for the boatyard barbecue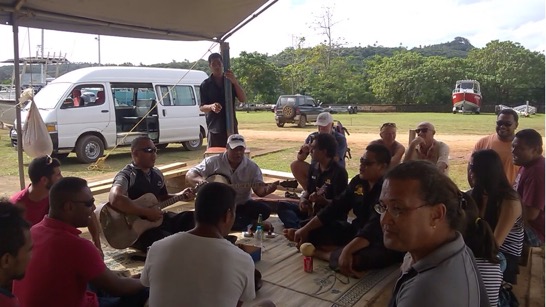 These musicians played and sang all afternoon. Beautiful harmonies and a really interesting sound. The Tongans appreciate music, and will listen attentively while anyone is playing, only talking when the players take a break.
During the breaks copious amount of cava was drunk!
The view from the boat yard.
We expect to be in Vava'u until the middle of next week, but may not stay until the end of the festival. There is so much more of the Kingdom of Tonga to see before we leave.
---