A Month in Whangarei

Serenity of Swanwick
Phil and Sarah Tadd
Tue 2 Jun 2020 05:03
Well it doesn't seem like a month since we left the yard and came into the Town basin, doesn't time fly. We've been quite happily sitting here in the marina with easy access to the town and life is slowly getting back to normal. New Zealand is still on level 2 lockdown which means that there are still social distancing guidelines but most shops are now open, restaurants opened last week and pubs have just been allowed to open. When we go shopping its generally 'one out, one in' and some smaller shops are taking contact details, I think all except supermarkets are supposed to.
We have been getting out walking quite regularly, round the loop or up Parihaka, even a longer walk last weekend up to Whangarei Falls.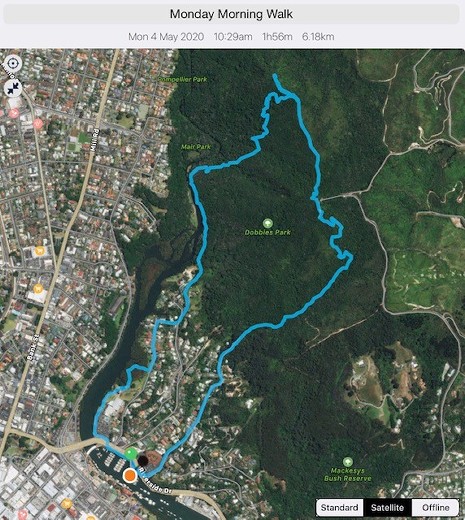 Two favourite routes up Parihaka
Whangarei Falls
We have been logging on to the Zoom meetings of Ashburton Hash House Harriers, running club in UK, and also taking part in their selfie bingo. A list of 49 things to find is published and you find as many as possible and take a selfie to put on their facebook page. Its quite challenging finding typically British things in New Zealand, view from a bridge onto a dual carriageway is one of the latest, our nearest proper dual carriageway is 90 miles away! It does however give another purpose to walks.
Sarah has started work on making an enclosure for the cockpit, its coming into winter here and having an enclosed cockpit will enable us to sit up there sheltered from the wind and rain. The first section joining the bimini to the sprayhood may get left up when we are sailing but the rest will need to be put away.
Phil has also been sewing, and has made a new fruit and veg net for the galley, the old one used to swing quite violently and you could get brained while doing the washing up.
Sarah working on the enclosure
Very smart insert between bimini and sprayhood
And the first side panel.
Phil's fruit and veg net
In the middle of the month it was Phil's birthday and Sarah laid on a super tea for him and we were joined by our German friends.
What a spread.
As it looks like we could be here for a few more months, or even a year, before the Pacific is open for cruising again we have bought a car so that we can get around, both locally and to see a bit more of the country. The car sales company has said they will take it back to sell for us when we have finished with it so that we don't have to worry about that. We hope to get out sailing again soon, we are now allowed to sail in New Zealand waters but we are also getting other maintenance jobs sorted. We have new windows on order to replace the UV damaged and leaking acrylic ones and an electric anchor windlass to bring Serenity's equipment into the 21st century, and save our backs.
Sent from Mail for Windows 10
---