Ready to go

Serenity of Swanwick
Phil and Sarah Tadd
Thu 19 Oct 2017 21:14
We are now just about prepared for the passage to New Zealand, and tomorrow (Saturday 21st) is looking favourable to leave, with the wind shifting from the south towards the south east. We may stop at Minerva Reef, which is 250 miles into the passage, partly for the experience of being anchored in the middle of the ocean, but also to assess the weather closer to New Zealand for the second part of the trip.
As we have been waiting here in Tongatapu more boats have been coming in to wait for the weather window to go south, and talk in the evenings in Big Mamas always comes round to the best time to leave and what route to take. It is quite reassuring that a number of other boats also think that this weekend is a good time to go.
Looking towards the anchorage on Pangaimotu island from the town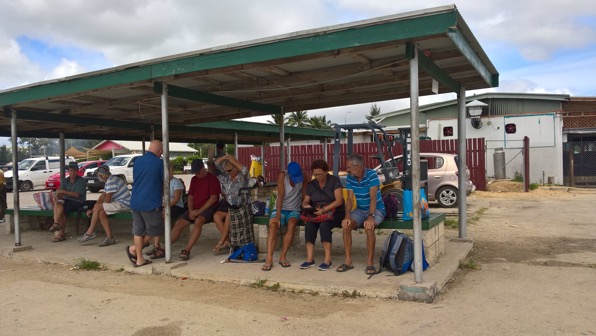 Waiting for the ferry back to Big Mamas and looking at the weather again.
In Friends Cafe
It's no wonder the size of some Tongans, when this is a small ice cream. They fill the cone then pile it on top.
---