A mixed month, the start of winter.

Serenity of Swanwick
Phil and Sarah Tadd
Wed 30 Jun 2021 09:51
June is the start of winter in New Zealand and we planned to head north to Bay of Islands, Whangaroa and maybe further. Although its a relatively short distance the temperatures might be a bit higher. First off we started the month with a car trip to Auckland for our Australian visa medicals, we might not be able to sail to Australia at the moment but as the visas can take 5-9 months to come through we are hopeful for next summer.
Setting off on the 2nd we had our normal stop in Munro Bay to make best use of the tides and then motored north to Whangamumu for the night in very light winds. We knew there would soon be some bad weather soon and wanted to be in Bay of Islands with its numerous sheltered anchorages. This month away featured lovely sunny winters days interspersed with strong winds and rain.
Bay of Islands, Russell to Cape Brett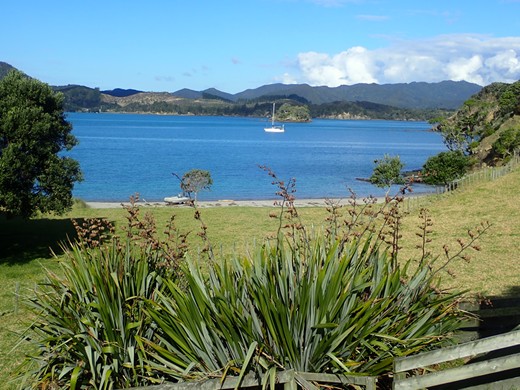 A night in Urupukapuka Bay
Next night in Opunga, with a gale forecast from a generally easterly direction we would get some shelter.
We actually spent three nights in Opunga Bay as the rain and high winds passed over. Our pilot said it was good holding ground and after 4 days with winds gusting to severe gale force we had to use the boat's engine to break the anchor out of the mud.
As the weather calmed down we stocked up on food in Russell before heading on north. There was still quite a swell rolling in from the east, so not wanting to go through the shallow Cavalli Passage we sailed around the Cavalli Islands. A great days sailing to end up in Whangaroa Harbour and a quiet anchorage in the shelter of Milford Island. So far we had only been ashore for a short walk on Urupukapuka and shopping in Russell, so we seriously needed some exercise. We decided to head over to Rere Bay from where we could go up Dukes Nose or walk over the hill to the small town of Totora North. Of course there was more rain heading our way.
Whangaroa and the Cavalli Islands
The waterfall above Rere Bay shows clearly after a bit of rain
But in the strong wind the water was going up, a sort of perpetual motion waterfall
We did walk over toward Totora North one afternoon and bushwhacked up to the base of the waterfall on another day, there is supposed to be a footpath but its not used very much.
The month was flying past and we really wanted to go further north but the anchorages tend to be a lot more open and there had been constant swell from the east, we did set out toward the Karikari peninsula but with light wind on the nose it would have been a long day sail and then an uncomfortable night rolling to the swell. We cut our losses and headed back south to Bay of Islands.
Aotearoa (New Zealand) is the Land of the Long White Cloud, but recently seemed to have become The Land of the Frequent Rainbows.
We anchored in Whale bay for a couple of nights with the overnight sounds of Kiwi and Morepork (New Zealand owls), before heading back to Russell for more provisions, a shower and meal at the Russell Boating Club and some much needed laundry. There was a dramatic thunder storm while we were here which seemed to rumble round and round us, we were fine but apparently there was a tornado in Auckland which damaged 1000 houses and threw heavy containers around in the docks, good job we weren't there.
We were able to get in some more walks on Moturua Island and Urupukapuka island, shelter again from strong winds, this time in Huirangi Inlet. Then just before we needed to head back down to Whangarei there was a perfect calm day when we could anchor in Deep Water Cove and do the walk out to Cape Brett, only 5 Km each way but hilly. The anchorage as the name suggests is deep and you need to be very close inshore to find shallow enough water for anchoring, so you need settled weather.
At anchor in Deep Water Cove
Looking out along the peninsula to Cape Brett.
Cape Brett Lighthouse – a great lunch stop on a sunny day
We are now back in Whangarei for the winter, we want to insulate our cabin and replace the vinyl headlining, not a small job, also we need a new sprayhood and bimini which Sarah will be making, another big project.
Just before we came back into Whangarei, the crowning glory for the Hundertwasser Art Centre had been delivered by barge and craned into position, a gold cupola.
Sent from Mail for Windows 10
---