North up to Pittwater 33:39.4S, 151:18.2E

Serenity of Swanwick
Phil and Sarah Tadd
Wed 15 Mar 2023 09:49
From Eden we headed up the east coast to Broken Bay, just north of Sydney, where we can prepare Serenity for the next year with access to chandleries, rigger and other supplies. In addition we can leave Serenity on a mooring and fly over to Perth to visit Sarah's cousins.
We spent a couple of days in Eden anchored, first to visit the town in the north of the bay for supplies and then moving over to the south for shelter. We tucked in to East Boyd Bay which has good shelter but the jetty is used by Navy warships to load ammunition and of course when we awoke in the morning there was a warship at the jetty. We had to move to the next bay, we could have moved back when they stopped work at 4pm but it didn't seem worthwhile as we would have had to move again next day.
North from Eden to Broken Bay is 220 miles, about the same as coming up to Eden from Flinders Island but we had to contend with the East Australia Current. Warm water from the north flows down the east coast and is particularly strong here flowing at up to 4 Knots. The position of this current changes and the general rule is to 'sail with one foot in the sand'. In other words stay as close inshore as you can and hope for a counter current. Actually modern weather forecasting and passage planning software can give a good indication of where the current is and how strong. We were quite happy to rely on Predict Wind to plan this passage and it worked well taking us offshore to an area of less current and then using a counter current to help us northward.
This is the kind of picture you get on 'Windy' showing the forecast current, very useful info as this passage is against the current
We planned to make the move north in two parts using periods of generally southerly winds, first to Jervis Bay then on to Broken Bay. Following the plan from Predict Wind we set out at midday and sailed and motored overnight to Jervis, winds from 0 to 20+ knots kept us busy trying to sail as much as possible but not hang around when the wind dropped.
Jervis is a large bay with good anchorages all around it so its possible to get shelter from most wind directions. We used free public moorings as much as possible, these are placed to avoid boats dragging anchors through sensitive seagrass areas, the seagrass being essential for the survival of a number of species especially seahorses.
We managed two walks while in Jervis the first out from the SE corner through bush to Governors Head and Murray's Beach and from Shark Net Beach at Huskisson through the local reserve. Being near a small town the reserve walk had the advantage of an ice-cream shop so Sarah was a happy girl. We met another English couple here Keith and Helen on Amici but spent very little time together as we seemed to be regularly moving anchorages.
Possibly a Swamp Wallaby, seen beside the path on our walk out to Governor Head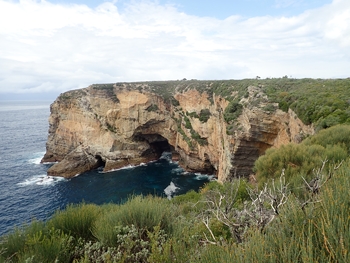 Devils Elbow cliffs along the coast south of Governor Head
The next step up to Broken Bay, another 100 miles, we again did overnight.  It was a fairly uneventful passage this time more 'with one foot in the sand'. Leaving about midday we were into Broken Bay by 0900 and found a public mooring free in Morning Bay. We must admit to staying on this one a bit longer than you should. The limit is 24hrs but as there were two moorings and it wasn't very busy we stayed two nights while we made arrangements for moorings, rigging quotes, various parts and our flights to Perth. The Kookaburras were particularly vocal here and kept us entertained as did a magpie and young that came onboard and were determined to stay.
Magpies on board
At the weekend we went round into the Hawkesbury River at the north end of Broken Bay an area which will be worth more extensive exploration if we have the time. America Bay and Refuge Bay in Cowan Creek are two popular anchorages (with public moorings) totally surrounded by bush. The only way in is by boat and the only landing area is a small beach with cliffs and a waterfall.
The beach and waterfall in America Bay
And the view from the top of the cliff
Motoring back into Pittwater early on Monday we passed through loads of jellyfish, wouldn't like to be swimming
We spent Monday and Tuesday in the marina for a rigging quote and the mast was lifted out this morning for the work to be done. Some of the rigging is now past the recommended 10 yrs so for peace of mind it is being replaced. We are now on a mooring for a month while the work is done and we fly over to Perth so there is unlikely to be another sailing blog for a month, maybe a Perth blog though.
---