Whangaroa Harbour. 35:00.55S, 173:43.8E

Serenity of Swanwick
Phil and Sarah Tadd
Fri 18 Sep 2020 04:28
Well stocked from the supermarket in Russell we were ready to head north again and as soon as the wind turned more westerly we set out for Whangaroa Harbour. We had visited Whangaroa by car when we first arrived in New Zealand and had been wanting to sail there as much of the Harbour is only accessible on foot or by water. It is an old river system that was drowned by rising sea levels and the steep rocky outcrops make it quite different from other parts of New Zealand that we have visited. It has a narrow entrance and you can find an anchorage protected from most wind directions, although the steep sides can create strong downdraughts in strong winds.
Whangaroa Harbour with our two anchorages in the north west corner
We left Bay of Islands early aiming to arrive before some stronger winds, and had a good sail as far as the Cavalli Islands, following Larus, another British registered yacht. The wind became flukey as we went through the narrow passage between the islands and the shore, but we managed to keep sailing. Once through the passage we had to turn into the wind towards Whangaroa and decided to motorsail the final 5 miles, getting a bit of help from the wind in the mainsail, while Larus headed into a cove just outside the harbour. We were glad we had 2 reefs in the main when we were hit by a squall with 35 knots of wind just before we arrived.
Approaching the Cavalli Passage
The rocky entrance to Whangaroa Harbour
Inside the harbour it was calm and we anchored in 6 metres in Te Rere Bay. This bay inside a bay is a picturesque spot 3 or 4 baches (holiday homes) and a DOC hut on the shore. The hut can be reached by a 2 hour walk from the town of Totara North, otherwise access is by water. We had chosen this as our first anchorage as the DOC hut is the start of the climb to the Duke's Nose – a rocky outcrop with great views. We tackled this the next morning: a short walk up through bush filled with birdsong then a final scramble up to the top using a helpful handrail.
Rocky outcrops everywhere
A calm anchorage in Te Rere Bay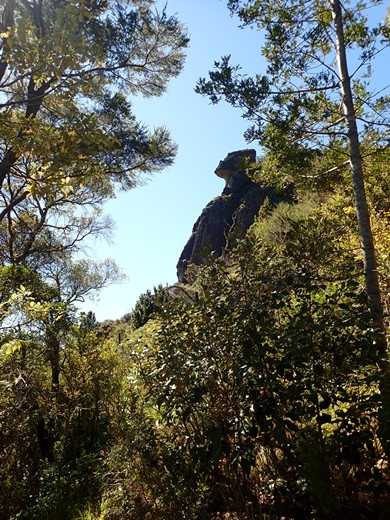 The Duke's Nose dominates from all directions
Lane Cove Hut – can be booked for overnight stays
Looking down on Serenity at anchor (mid picture) with the baches and their piers to the left
The entrance to the harbour
After a couple of nights we moved round the corner to the north to Wairoa Bay where we had read there was a walk to a Pa site (a Pa is a settlement, often fortified and usually on a strategic lookout), but we couldn't find the footpath. The whole area was a historic reserve and there were 'keep out' signs on most of the beaches. On our second day at this anchorage we were joined by two other British yachts – A Capella of Belfast was in the boatyard at the same time as us in February and we met Into the Blue following our passage from Fiji last November – we all had afternoon tea together on Serenity. The next day Larus dropped anchor among us and drinks on Into the Blue that evening were a very social affair!
We need to be back in Whangarei next weekend so we left Whangaroa, following Larus again, yesterday morning and had another enjoyable sail back to Bay of Islands. When the wind has a westerly element to it sailing conditions can be great down this coast of New Zealand where you get shelter from the land so giving a very smooth sea. We anchored overnight at the north end of the bay and today were blown back down to Russell where we have taken shelter as the latest front goes through with strong winds and rain.
An atmospheric morning as the mist lifted in Wairoa Bay – A Capella of Belfast next to us and Into the Blue to her left
Signs of spring are increasing now; at our anchorage last night the scent of blossom reached us well offshore, and less pleasingly we were attacked by sandflies as we tried to launch the dinghy following our last walk in Whangaroa.
Warm enough for shorts and teeshirts!
Sent from Mail for Windows 10
---