July 2020

Serenity of Swanwick
Phil and Sarah Tadd
Sat 1 Aug 2020 03:59
Another month with Serenity moored in Whangarei. We however have been out and about.
We have been waiting for a fine day to go and visit the Quarry Gardens, an old limestone quarry which a group of volunteers have turned into an interesting garden. Having its own micro-climate the gardens are able to grow a wide variety of tropical plants outdoors. Still not used to opening hours in NZ we unfortunately missed the coffee shop, the gardens close at 5.00 but the coffee shop shuts at 3.00!
Giant fig from Papua New Guinea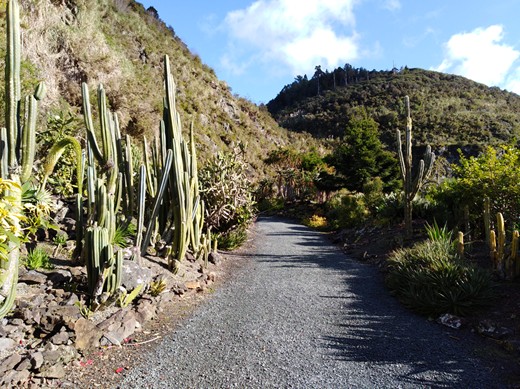 Cactus garden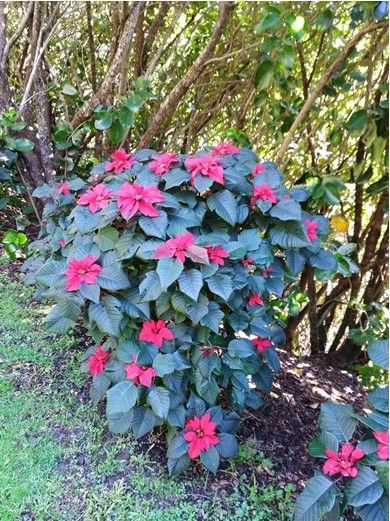 Is this a Poinsettia growing outdoors?
The gardens were a gentle afternoon stroll but looking for something a bit more strenuous we went down to Tanekaha, south of Waipu. There is a forest area where local volunteers maintain a network of tracks . The Forest and Langsview tracks take you up a ridge and the Falls track descends by a stream with waterfalls and the remains of Kauri dams. It was a fun descent: steep and muddy as it twisted between the trees.
Tanekaha track complex
2nd fall
View from the ridge
Mid month we had to move across the river from our step aboard mooring on a finger pontoon to raft alongside another boat on the town side. The pontoon mooring's owner was returning with his boat from Bay of Islands. Although we are now rafted alongside another boat we are closer to the shops, toilets and showers. The marina is crowded due to the number of yachts stuck in New Zealand because of Covid19. Although it is possible to enter Fiji now this is the only possible destination in the South Pacific and anybody who goes there does risk the possibility of being stuck there in the next cyclone season. Australian and New Zealand citizens can return to their own country but at present we have no right of re-entry. Our visa's expire in September, this was an automatic extension given by New Zealand, to stay longer we are now applying for another extension. Theoretically we are allowed to stay 9 months in 18 and have already been here 9 months. If we are to sit out the next cyclone season we need to stay until at least May next year. The required medicals, chest X-rays and blood tests are booked for the week after next.
Getting out and visiting more of the area has become important to us so as another day trip we went out to the coast to the east did a short walk on the cliffs and a longer walk along part of Ocean beach
One of two impressive houses looking out to the east.
The start of Ocean Beach, with Bream Head and Hen and Chickens island.
The last blog reported a Tornado that affected the boatyard we had been in during lockdown, this did not affect us but the heavy rain this month did, 225mm in 24 hrs on Friday 17th. Annual average is 1500mm. The rain may have filled the reservoirs but it damaged water treatment plants and sewers, there was extensive flooding and the river was a raging torrent with large trees being washed down past us. We were lucky only to have relatively small pieces of timber trapped between us and the boat we are rafted too, across the river there was so much trapped around the boats on the pontoons that it took all day to clear.
We had entered an orienteering event down on the Tasman coast NW of Auckland so Saturday afternoon we headed off intent on being away for a few days. We had booked into an AirBnB in Helensville for two nights and would book more as we decided how long to stay away. For just over $NZ100 a night we were able to get self contained accommodation with basic cooking facilities and comfortable bed and hot showers, what more could you need?
Driving down to Helensville we passed Gibbs Farm, a private sculpture collection unfortunately not open very often to the public but this was the view of one piece from about a mile away.
Orienteering on the dunes, very challenging navigation.
We ate out in two pubs while we were away, Riverhead Inn and Kentish Hotel, the oldest riverside pub and the oldest continually licensed premises, we are continually reminded that old here is relatively young. European history in New Zealand only dates back about 200 years.
After 2 nights in Helensville we moved on south stopping to walk up Mangere Mountain, one of three extinct volcanos in Auckland, then out to Manukau Heads lighthouse. Established in 1874 it overlooks the entrance to the Manukau harbour, a large natural harbour to the west of Auckland. The bar here was where the worst shipwreck in New Zealand occurred in 1873. HMS Orpheus went aground trying to enter the harbour in bad conditions with the loss of 189 lives.
Mount Mangere and views across Auckland.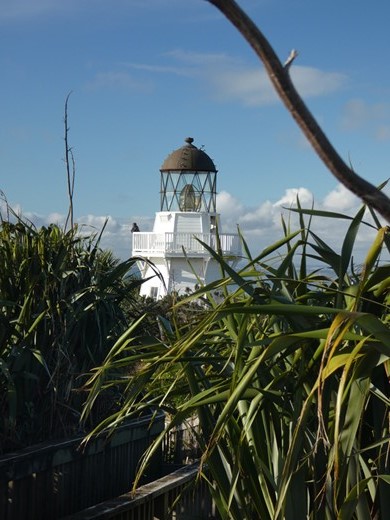 Manukau Head light.
View to sea from Manukau light
Our second AirBnB, on a farm
After checking forecasts we returned to Whangarei on Tuesday driving up through the Waitakere ranges in pouring rain. And during the last week we have been out to Ruapekapeka, the site of the last of the Maori wars in North Island.
Gateway and Totem at the Ruapekapeka site.
Sent from Mail for Windows 10
---