A windy trip to Santa Marta, 11:14.5N,74:13.1W

Serenity of Swanwick
Phil and Sarah Tadd
Fri 10 Feb 2017 14:41
It took us 3 days to cover the 380 miles to Santa Marta. This passage is known for strong winds and lumpy seas, as the trade winds are funnelled round the coast of South America. The seas can be particularly rough due west of Aruba, where the seabed shelves, and the wind strength increases further around Santa Marta, under the influence of the Sierra Nevada de Santa Marta, the highest coastal mountain range in the world.
We waited for a reasonable forecast before leaving, and went well offshore around Aruba to avoid the shallows. It was still quite windy (force 5-6 most of the trip) and before nightfall on the first night we were sailing as we did across the Atlantic, with just our headsail up, and the mainsail furled. Still we were making 6-7 knots most of the time, and we had planned our passage on the basis of 5.5knots to arrive in Santa Marta in the morning – the wind here increases in the afternoon and evening, and dies down during the day.
This bird stayed with us all night, and left calling cards
all over the deck when it flew off at dawn.
On the second morning we closed the coast of Colombia, as we were well ahead of schedule and the weather models show an area of lighter wind in the bay, and overnight we took all the sails down and allowed 'Serenity' to sail under bare poles – still doing 3-4 knots. We didn't see the coast until we were about 6 miles off, as it was quite hazy, and as we rounded the cape and turned south to Santa Marta the wind increased again, so we had an exciting ride for the final 10 miles to the town. It was a good trip, with a nearly full moon giving us light until just before dawn each night, and 'Serenity' behaved beautifully in the following seas.
Our first sight of South America
Approaching Santa Marta
The bay at Santa Marta is well protected from the sea, but the wind howls down from the Sierra Nevada bringing sand from the beaches, so you feel gritty all the time. You are supposed to be able to see the snow covered mountains on a clear day, but it has been hazy so far. Getting customs and immigration clearance here takes longer than places we have visited before and we had to wait 24 hours to get our passports back, before we could explore.
Santa Marta
You enter the bay between this rock and the shore
The marina at Santa Marta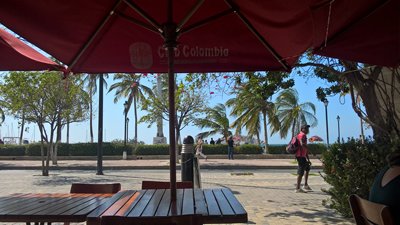 We didn't have any thing on board for lunch, so snuck ashore for
lunch in this café.
---