Boat work in Whangarei - 35:43.4S,174:19.6E

Serenity of Swanwick
Phil and Sarah Tadd
Sun 15 Dec 2019 00:44
From Mimiwhangata we sailed south to Tutukaka – the light following wind allowed us to get the cruising chute out of its locker in the forepeak for the first time in a long time. We spent one night anchored in the harbour there and went ashore for a few groceries and the wonderful ice cream, but the bay was really rolly in the easterly swell so one night was enough and the next day (Monday) we motored to the Hatea River which leads to Whangarei. We had planned to tuck up in one of the bays at the mouth of the river while some strong winds came through, but as we came in round Bream Head the wind picked up, it started pouring with rain and the anchorages didn't seem such a nice idea. A quick phone call to the marina, who said they could fit us in, and we made the decision to carry on up the river to the town.
For a short while 'Serenity' had the prime spot outside 'The Quay' restaurant
Only in New Zealand – site hazard warnings while they put up the Christmas tree!
Since then we have been in the town basin marina getting on with our jobs. Its so much easier to do them here where all the shops are within walking distance so you can get the bits you need to work with (nuts and bolts and fabrics). The biggest task was fitting the deck hatches we bought while we were in Opua, and those are now all done. The Perspex in the old ones was badly crazed and the new ones let in so much more light. Phil has replaced the engine ignition switch and the stop cable, which were both rusty and Sarah has recovered the life rings and made sun shades for the cockpit.
An old hatch comes out
Down below we had to remove the headlinings (ceiling) to get at the fixings
Most of the screw and bolt holes on the new hatches were in different places so we had to fill the old holes and drill new. The upside-down dinghy gives good shelter while working on the forehatch.
A shiny new hatch in place (one of four)
New life ring cover
The call sign was stencilled on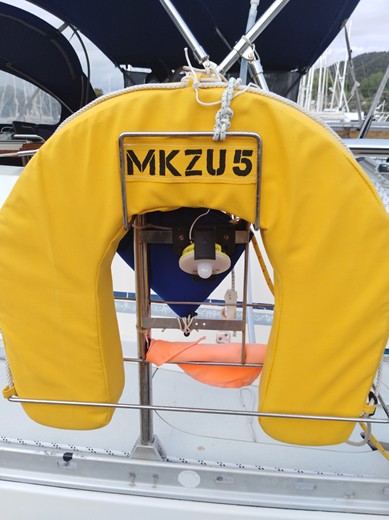 Back in place
Shade netting for the cockpit
Dinghy wheels – off with the old and on with the new
In between we have been out with Whangarei Hash House Harrier, including taking part in their annual fundraising Red Dress Run, and last Tuesday we went to the Christmas run which was followed by a beach barbeque. We also had coffee on Serenity with the two local couples we met earlier in the year who sailed out to New Zealand in the early 1970s.
The red dress run
The hash went to the top of the hill
With great views for those who went all the way
A lovely evening for a beach barbeque
Thanks to members of Whangarei Hash for photos taken from Facebook
---