Susui 17:20.36S, 178:57.0W

Serenity of Swanwick
Phil and Sarah Tadd
Wed 7 Aug 2019 04:53
Thursday, the wind was set to pick up possibly gusting 30kn over the next few days so we are all headed over to Susui, a short hop to an anchorage with better holding and protected from the south and east. First though we went for a walk up the hill above Lomaloma to stretch our legs. As we returned to the village a man invited us to his house, 'to give us some bananas'. Of course he didn't refuse payment for them but as normal he didn't ask for anything. He also sent his son up a tree to get some drinking nuts which he husked for us, we had one each while we talked and left with three hands of bananas and four drinking nuts.
Collecting drinking nuts
Husking the nuts on a sharp metal pole.
Apparently coconut water is as good as statins for controlling cholesterol but the meat and coconut milk is high in cholesterol.
We motored the 4 miles across to Susui and with the other cruisers went to present our sevu sevu to the chief. We were met by Jacob, the Tauranga ne Koro (head of the village). The main chief was away fishing so one of the other chiefs took our sevu sevu and welcomed us to the village. Apparently there are four clans or families here and each has a chief which is hereditary, the village head is an elected position.
We were then taken on a tour of the village with a visit to the school and to see the women weaving, we were also given drinking nuts to share, second of the day.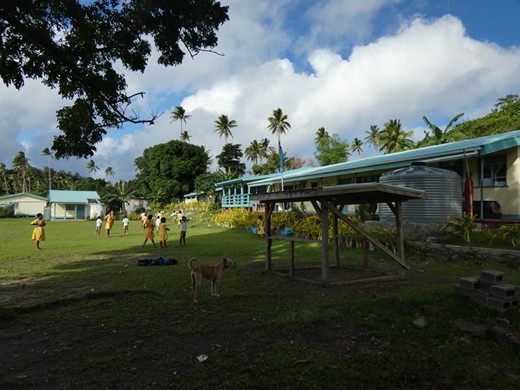 The school has three classes and children from 6-14. At 14 they then go to board at Lomaloma school.
Like all the villages we have visited it was very clean and tidy with the 'grass' trimmed short and no rubbish apparent. Considering that they use earth toilets there is no smell at all.
We were invited to go to church on Sunday so dressed in clean shirts and Sulus we sat through a service which we obviously did not understand, but it sounded much like a service in UK, to be expected as they are Methodist.
Dressed in our finery
The temporary church at Susui, their church was destroyed in Cyclone Winston and is still waiting rebuilding. At some point this will be a village project but more important at the moment is raising money for a new village longboat and outboard. This is what our donations go toward.
After church we all went back to Jacob's house for a meal, fish, cassava, breadfruit, plantain and a number of side dishes. Cooked with coconut milk it was delicious. The visitors had to eat first, then the extended family and finally Jacob and his wife.
We have spent time here walking on the beach and doing jobs on board, everyone is friendly and the children are delightful, polite and eager to be with you. We went for a walk along the beach on the opposite side of the island and very soon we were joined by Ciam, who told us the names of things in Fijian and tried to answer questions, he was 11yrs old.
Walking on the far side of the island with Ciam.
Yesterday was a special event in the village, an elderly man had died 100 days ago and after this time the tomb can be cemented up and whatever Taboos there are for the family finish. It is a time for feasting so again we were invited, you could tell inviting us was not just a formality but we felt genuinely wanted at their special day. It was a time for drinking Kava and then eating. At first it was just the men who were invited to join the kava drinkers but after a couple of hours the women were allowed to join, not the village women of course they were cooking. The Kava ceremony was overseen by David, the minister, he decided when the Bilo's were to be passed round and decided how much water was added to make the Kava the right colour, a number of bowls were made and drunk in the 4-5 hours we were in the hut. Then we went to eat, again visitors first.
Mixing the Kava
Another delicious feast
Battered Barracuda, no ciguatera here so its safe to eat reef fish.
Today Sarah and cruisers from the other boats went in the village longboat back to Lomaloma for fresh supplies, as the supply ship came in on Monday and we are hoping to leave for the more remote southern islands at the end of the week. There was nothing much additional to what we got there before, so our diet is going to be a bit monotonous over the next few weeks. At least the villagers here in Susui have been able to supply us with papaya, breadfruit, limes, bananas and freshly baked bread.
Sent from Mail for Windows 10
---