Bonaire - Divers Paradise

CuriousOyster
Steve & Trish Brown
Sat 18 Jul 2009 23:22
Bonaire - Divers Paradise.......... is what you see on all car number plates here in Bonaire...and it is probably true, with over 50 designated dive sites, many of which can be accessed directly from the beach.
Diving is the key element of Bonaire's tourist industry and with the whole coastline designated a National Park, from the high water line to the 60 metre depth contour the island has the best coral reefs in the whole Caribbean and probably the most abundant and widest range of fish.
Having first scuba dived in the BVI's almost 20 years ago I promised myself that I would learn to dive and obtain my PADI Open Water diving certificate. As happens in life other priorities get in the way and it has taken these 20 years for me to realise the ambition. This has given me the opportunity to dive in a number of the sites around the west coast of Bonaire and Klein Bonaire and it has been incredible!!!!!
Not only to see the fish at such close quarters but to get a better understanding of the symbiosis between the coral and algae that create these extensive reefs but also how the whole living entity plays such an important part in sustaining all sea life and the food chain as a whole.
Most people will have seen documentaries on coral reefs, how beautiful but delicate they are, how they play a key role in the overall food chain, etc, etc. But it is only when you see for yourself at close quarters that you begin to understand just how crucial they are and just how fragile they are. Temperature fluctuations caused by global warming, manmade pollution, dynamiting of reefs to catch fish, the increasing onslaught from annual Hurricane and Cyclones and the simple daily fight for survival from their natural predators, all threaten our reefs. Many around the world have disappeared, and Trish and I saw for ourselves how the El Nino effect had devastated the reefs in the Maldives in just five years and almost all are under threat in one way or another. So it is to Bonaire's great credit that they took the step some years ago to protect their greatest asset.
So once you understand a bit about incredible nature of our reefs you begin to look more closely, ignoring the fish for a while you begin to see a myriad of other creatures, Moray eels, tiny spider crabs, red and blue shrimp, sea horses, lobster, etc, etc, but you also begin to see the incredible structures that are created by the billions of tiny coral polyps. Building on top of each other the hard coral create huge structures and the soft coral create tubes, bowls, stag horn and tree-like structures that support the wide range of wild life. There is a wide range of colours, some vibrant shades of blue, red, yellow and green while others are dark browns, greys and black.
Having bought a detailed book on the and identified almost 50 species to date the next step is to obtain a book on the reefs themselves and try to improve our understanding still further.
As for the diving...well the next step is to obtain my advanced open water qualification by doing a number of so called adventure dives, wrecks, deep water, underwater navigation, etc.
In the meantime here are some photos taken by Trish when snorkelling along the seafront in Kralendijk, Bonaire.
Spotted Trunkfish
Filefish
Baby Blue Tang & Parrot Fish
Queen Parrotfish
Trumpet fish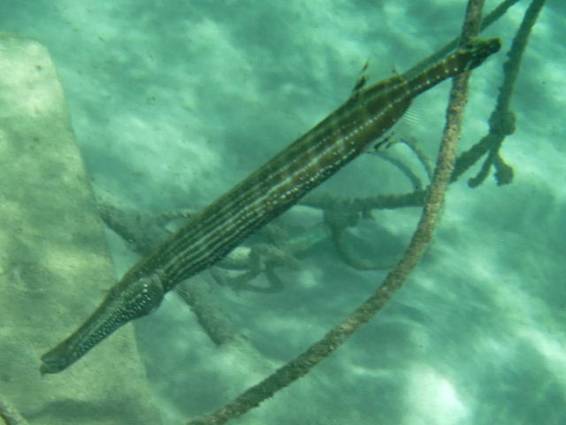 Spotted Moray Eel & Parrot fish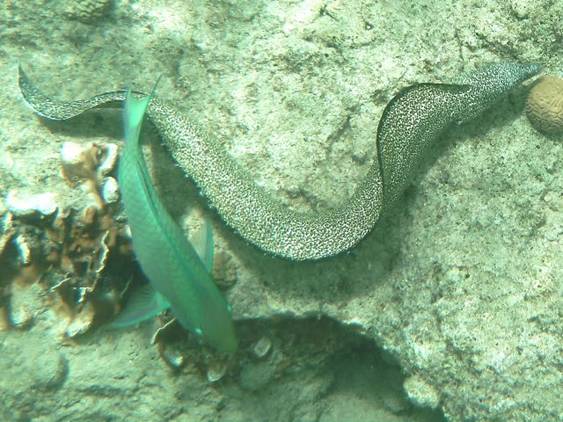 Peacock Flounder


__________ Information from ESET NOD32 Antivirus, version of virus signature database 4257 (20090718) __________

The message was checked by ESET NOD32 Antivirus.

http://www.eset.com

---