Lofoten day 27 Blogg25 ENGLISH VERSION

Katarina og Hallstein på tur - Nå med SY Sana
Hallstein Moerk
Fri 23 Jun 2017 11:14
The weather forecasters took the criticism to heart and gave us better weather than promised today. Yay! Sun and a clear view, why not pass a little wind too? The morning included breakfast, a work related phone call, and then Katarina and Popeye set out to explore Skrova while investigating the reason behind its nickname "Northern Hawaii". Skrova has 180 permanent residents. It's a beautiful island with friendly people who like to come down to the harbour and hit up a conversation with visitors. The island has a good atmosphere- but it's not credit card friendly. Basically it's difficult to buy anything here other than a half-liter beer or two at one of the two pubs...which I guess isn't a waste of money. The bartender will come over to sit at the table and mingle with the guests (just Katarina and I). He's actually from Oslo but is a photographer, which was apparently supposed to explain why he was here. There are six photographers on the island so you can imagine there are quite a few picture galleries (another nickname is the 'Picture-island in Lofoten'). I still don't know why they all decided to gather here, but one guess is that they enjoy taking pictures of eachother (and maybe play a game of paparazzi with the girls in the straw skirts). After all, Hawaii isn't close.
There's a tunnel in a mountain here. I'm not sure who made it, but it must be nice to have your own tunnel that leads from nothing to nothing (other than a couple fish habitats). I mean people collect a lot of strange things, and it's probably practical if it's raining. Apparently, some artists decided to install lights in the roof of the tunnel and then hang up a bunch of photographs that tell the history of Skrova. It's amazing! A lot of old fisherman, old boats, and a young whale. And a lot of dry-fish.
We returned to daylight and resumed our expedition. Then we discovered that there must be some normal folks on the island. Hundreds of meters of dry fish mounts everywhere. The fish had evidently thought it was alright to be dry behind the ear and decided to hang side-by-side to dry. Maybe they come up with the spring tide (it's about 3 meters here). I hope they haven't been hanging there since the pictures were taken? It wouldn't surprise me considering how old and wrinkled they look. Big industry as well as a good scent (for those who are into that).
We walked a little more until we finally found the fantastic sand beaches. For the record, there were no women dancing in straw skirts (and none without straw skirts either - in other words, no nude beach). After taking a few pictures the light bulb turned on- why would there would be palm trees or straw up here in Skrova? Seaweed skirts must be the local alternative. In fact, we soon found evidence that there must have been some girls in seaweed skirts on the beach not long before we arrived. They must have tossed them just before we came and then out of shyness hidden behind some rocks or bushes. Nevertheless, the sand and the turquoise water was irresistibly beautiful and slightly tempting until we tried a toe in the water. Ice cold. You would think you could fish ready-frozen fish in this kind of water, but then you would probably have to try further north. On the packages in stores it often says that the fish is frozen in the ocean. Look at that, now we have clarified that one too. It's unbelievable how insightful one can get while promenading.
We walked for a couple more hours, during which my sea legs struggled to put one foot in front of the other instead of to the side (as practiced onboard), and finally we were back on Capraia. Hamburgers were on the grill for lunch (and as often happens with a woman onboard, garnished with a lot of green/grass). Nevertheless, It goes down even though the stomach finds it a little funny. Dinner will be a bacalao inspired cod dish with lots of green (at least this grass will be cooked).
It's reported a lot of wind tonight and tomorrow, but we'll probably leave after breakfast and set course to the north and then towards the mainland since we're getting southern winds. Time will tell where the breeze will take us. That's it for today.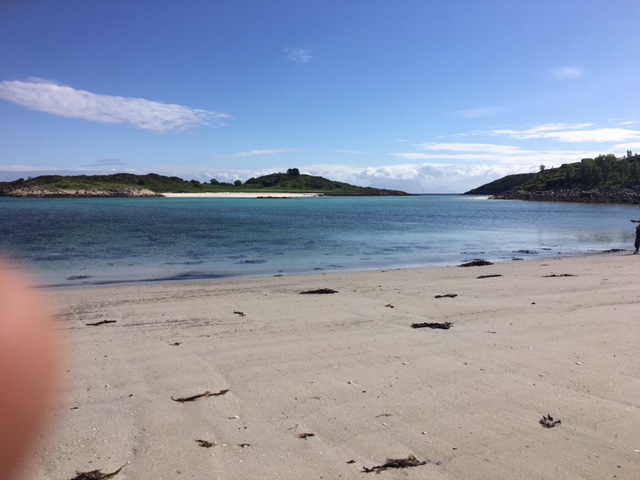 ---