Lofoten day 27 Blog 25 - ENGLISH VERSION

Katarina og Hallstein på tur - Nå med SY Sana
Hallstein Moerk
Thu 22 Jun 2017 06:23
It was a lively night on the quayside in Svolvær. More boats arrived and we were put to work arranging places so we could all fit in the harbor. Motorboats were situated where it was shallow, while sailboats stayed in the deeper areas. After that, us Oslo folks collected some great tips on what harbors we should visit, fishing, bait for halibut, weather, wind and other important things. It doesn't seem like there's much concern for Trump up here. Few of his escapades appear to have effect here. Conversation has confirmed what we already know: northerners are very friendly people (at least on the docks). If we'd drank everything we'd been offered then there would hardly be a blog post today. We slipped away from the bridge and had a beer at Ankerbrygge. Nice place.
We also managed to be a little touristy and stop by an ice bar. There was displays of a monuments made of ice, with a bar where you drink in a glass (made of ice). Here you don't get drunk for the mere reason that it's minus 6 degrees celsius in here, it's a little too tempting to go quickly out to the heat again (read: 11 degrees celsius).
Tomorrow's trip has to be planned carefully: when is the high tide, where does the current turn, how strong is it, water depths of different routes, wind direction at different times of the day. Based on all of this the plan is set. Good night.-
We woke up early this morning (early for Katarina, late for me) and set sail a bit before schedule when we saw that the forecast had changed its mind on weather and wind, which is an unfortunate start to the day for any sailor. Either way, Trollfjorden had to be explored. Apparently there are a lot of tourist boats that go there from Svolvær, but of course we would like to see it on our own terms. The weather was a little dull so we hurried a bit before the sheet of rain and fog would lay itself over the trolls and fjords. We made it just fine. It was an impressively tight sail-in, but it was quick. "Been there done that". We hunted for trolls but found only two beautiful battling eagles (maybe they were trolls in disguise?). I tried to fish a bit, just in case. Maybe we could catch some troll-fish, but there were no trolls in the sea either (at least none that were hungry). Unfortunately, we don't have crab pots onboard, otherwise we would have tried to get catch a troll-crab, but that remained a thought.
Somewhat dissappointed given the troll shortage, we set course towards the sea again. After some deliberation we decided to head for Skrova, the northern Hawaii! And here we are now, in fog, wind, and rain. We managed to move another boat so we could get space and now we are lying nose up to the wind (which will be strong all night and tomorrow). Hopefully we're positioned safely enough. Through this layer of weather it's difficult to see any rum punch or grass skirts (like they have in Hawaii). The rum is probably long gone (knowing the northerners - they don't believe in storage) and the grass skirts have probably moved inside (or blown away like hay). The latter would probably open a nudist beach (Skrova is also known for having great beaches). Crossing our fingers that the sand hasn't blown away before we get to see it (the sand, I mean).
Dinner was also on the agenda so we stopped at a shallow area, which we soon realised was too shallow and full of small pollock. The lucky first two were thrown back into the water, the third stayed hooked as bait and sunk to the sea floor. And it worked. A big cod took a bite of the pollock on the hook, and they both made it onboard. We went further out in deeper water and all of a sudden we caught the biggest fish of the trip so far, a cod at around 10kg. Dinner for today and tomorrow is officially saved (and then the fishing prohibition continues :( ).
The heater is turned on, the windows are fogging, dinner, a shave and a shower is due. We are hoping to explore Skrova tomorrow. Half the whales hunted in Norway come here. Hopefully they're caught before they come here or else it might get a little tight in the harbour. You can actually buy whale pizza and whale-burgers here. How this harmonizes with rum punch, grass skirts, and nude beaches on windy days- no idea. Maybe the internet can help, it seems to know a fair amount. And with that, it's time to cook the cod and today's blog post is done.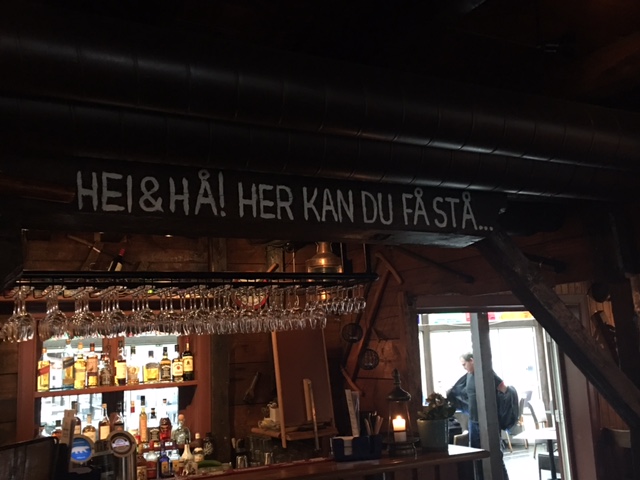 ---