Lofoten day 25 Blog 23 - ENGLISH VERSION

Katarina og Hallstein på tur - Nå med SY Sana
Hallstein Moerk
Mon 19 Jun 2017 18:13
Life is very up and and down here said the elevator operator. It's not exactly ideal to sail around Lofoten in thick fog. We've wandered around Henningsvær a couple times, bought some old decor for the anneks and the out house at Snarøya. Then we ate out (but really in) at a restaurant a couple times, but now I'm feeling the creak in the sea legs again (even though Hellstrøm and his film crew have left). Next stop, Svolvær. It's not a long stretch but with the thick fog we'll have to rely on radars and feelers while we scroll through pictures on the ipad of the mountains we're sailing past. The kayaks we were hoping to try in Henningsvær will most likely stay onboard. It's helpful to see when the paddle hits the water surface.
Henningsvær ('Hennings-weather') has a population of about 400, the dark season is from 7/12 to 5/1, so it doesn't last very long. Life already start looking brighter just after Christmas and New yeas hangover. Northern lights are incredible up here in the winter months, but we're not too keen on waiting here that long now that all our instruments work again. And who's Henning? No clue. But it's great for him that he has his own weather (you'd assume that he would choose to have nice weather all the time, but he probably has his reasons and it's not easy for a young boy from Halden to understand much in a fog filled sea). Maybe there's too much competition from Svol? Because he obviously has his own weather too. We'll see if Svol has a little more control of his weather when we get to Svolvær ('Svol-weather').
Having your own weather is a fascinating idea, "Hallstein-weather" has a nice ring to it. I checked Yr and guess what! I have my own weather too! Check out the link:
https://www.yr.no/sted/Norge/S%C3%B8r-Tr%C3%B8ndelag/Trondheim/Hallstein/varsel.pdf
I must have gotten it for Christmas once and forgotten. I'll probably remember it again when i'm a little older. It's a little inconvenient that it's in Trøndelag but it was probably price related decision. I wonder if I could send in a written application to Yr to change it to Snarøya (only if it's nice weather of course. If it's not nice then maybe it's safest for it to stay in Trøndelag, they are a little more used to it).
Now we have reached Svolvær. The fog thinned a bit before we took off but we stayed close to shore so we could get some glimpses of the beautiful nature we were passing. We stopped by Kabelvåg but it didn't tempt too much so we continued further to Svolvær. The weather isn't much better here. Just when we arrived came the crisis again. Hellstrøm and his film crew were standing on the dock and we had to sign some papers that allowed them to use us in a TV-program ('Truls på Tur' or something like that). Hellstrøm was in good cheers and started to tell us some Northern Norwegian inspired jokes. The first one was innocent enough, something about applesauce in a refrigerator with a play on a norwegian word. But since there was only a fisherman and ourselves there, he let it loose. It was something about a woman buying shampoo and misunderstanding a label because of her northern dialect. It only really makes sense in norwegian and even those who are norwegian but who are a little foreign to the northern dialect will probably wonder why it's so funny. In that case, ask Knut or Sissel who will explain it perfectly (I can't). Katarina laughed politely but her smile curved into a question mark (she didn't understand anything) but she'll probably get it when she reads the blog in Norwegian.
After that we relaxed and did a little shopping. For those who don't know, Katarina's full name is Katarina Melin Luksepp, but she has a relative who's called Katarina Luksepp who visited us on the boat with the family (including a very pleasant north norwegian fisherman). The visiting Katarina got the fisherman to drive 30 nm back and forth for a cup of coffee and chocolate. Very charming folks, even though they're Swedes.
Now we've just have some fried pollock (much better than out / in at a restaurant). We considered inviting Hellstrøm, but thought it would be a shame to dampen his self-esteem (and we'd probably still meet him at the next harbour… and God knows what kinds of jokes he'll come up with then).
Svolvær is a lovely place. Many friendly people and lots of stores, art stores, and galleries (hurraay says Katarina). I found a hair salon and wanted to get a cut. I considered asking for a discount since there's not much hair at the top of my head. But at the same time it's a bit of a sensitive topic, so after a long internal deliberation, my pride won and I paid full price.
Now I'm getting the feeling I've written a lot, so that's the last of the blog for today.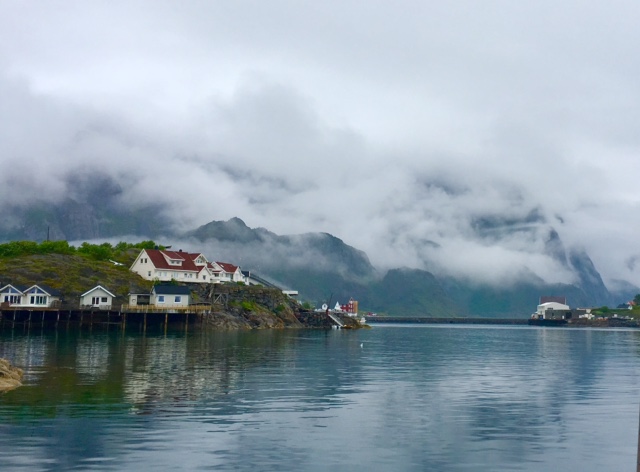 ---