Lofoten day 24 Blog 22 - ENGLISH VERSION

Katarina og Hallstein på tur - Nå med SY Sana
Hallstein Moerk
Mon 19 Jun 2017 18:12
The plan today was to explore Henningsvær, which we did do to a certain degree, but in a completely different way than what we were expecting. Young Mr. Mørk got out of bed with messy hair and steadfast eyes, and got working on the usual appliances to check wind and depth and all the other critical numbers that feed a sea hog. But, no. What. all the instruments were dead. Nothing worked. Panic hit pretty quick. No instruments = no sailing. What in the world do I do? I started to make some calls and found a local workshop, but they said "we don't take on issues like these, it's too complicated". I felt my adam's apple jump while I tried to swallow the nerves. He was nice enough to hand us another number, but the other number didn't have time and weren't sure when they would. Does this mean we have to register a change of address in Henningsvær?
But we couldn't give up that easily. Out with the 5 big manuals and out with the circuit diagram- which there are a lot of in the boat (ref picture). Fuse, fuse.. There has to be a f… fuse somewhere. And there was, just in far too many different colours and sizes. After a lot of thinking and elimination I found the right ones and changed them...with no effect. Back to the diagram, where I found some drawings of some other complicated stuff that could potentially be relevant. Relay, is the name apparently (google it for those who don't know).
I have overheard people who actually speak this language that "the relays gone"... so I checked, but it hadn't. It was bolted to the wall and where in the world would it have gone anyways? After some time, even a poor old HR man could understand that perhaps it had gone even though it hadn't.. or maybe it wasn't satisfied with the situation and pursued another relay in Henningsvær.
The hero of the day was Kim Ness in Hovde Maritim. He first checked his own storage without luck, but after calling around he found a relay at a bus reparation shop in Svolvær that could maybe work. "Do you have a license?"... "Take our car and drive to Svolvær and pick it up." Send more of these northerners to Oslo!
We drove to Svolvær and back and then the old HR man (while Katarina visited galleries (she knows from experience that my normally cultivated Norwegian, really detroriate when i get a tool in my hands so she preferred galleries at that stage)). Shiv at hand, headlamp over head, I started turning on electronics and switched the relay that had maybe gone, but that was still there. We also came back with new lugs (cable shoes). What that is- is not so easy to understand, but I guess it makes sense that a relay that can 'go', might also need shoes, and 'cabel shoes' should get isolation, which I guess it's logical considering how cold it's here.
The relay was in place. Will it work or is Henningsvær our new home? Guess what. The bus relay worked. I mean it was for a Volvo bus and they must be pretty solid (even though they're Swedish). I'm still not completely sure what's happened but now there are two relays in the closet, with a cable shoe that works and another one without a cable shoe that's probably a little chilly on the toes, but it can just stay that way after all the trouble it's created.
I'm sorry this post became a non-technical, technical blog, but now the day is soon over and there wasn't much else to write about. Hopefully tomorrow there will be more on Henningsvær which seems very welcoming. Now we are going out for a walk and then deliberate if we will be eating in or out again.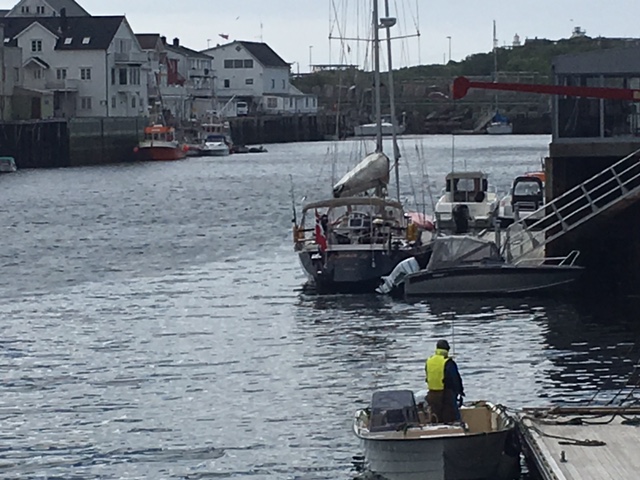 ---