Isla Chapera, PA - 6.-9.2.2013

Andromeda
Michael
Sat 9 Feb 2013 17:21
8:35.034N 79:01.236W
Isla Chapera, Islas Perlas, PA
Moved some 25nm further North and found another lovely anchorage and quite a few other nice boaters, some we had been seeing on and off since El Salvador.
We had a weak cel fon signal here and despite carneval festivities in Panama City, we could make a doctors appointment for Michael on Monday morning.
So nice we get to spent a few more nice days out in a beautiful anchorage before heading for Panama City for about a months.
We got everyone together for a bonfire at the beach, and it was great and very international, with cruisers fro Canada, the USA, of course, Switzerland, Australia, Thailand, the Philippines, France and Germany! The French couple also have two great kids who enjoyed the bonfire, beach and popcorn a lot.
One looks almost like my Godson Noah in Hamburg - and is also called the same: "Enoa"
The French guy also gave us a little practical course of how to make really yummy baguette - will try that, soon. The secret seems to be beating and slapping and folding the dough long enough...
Unfortunately, we had another engine problem - something is wrong with the port engine! The propeller is only rotating a bit, but in forward, seems to stall. Michael thought it might be a problem with the cone clutch. Seems to be a problem with the shifting lever and we can hopefully repair that with not too much effort.
Has been great to be amongst nice people again, and we significantly increased our ebook (must have some 3,000 books now, enough for the next decade!), movie and TV series library.

Are off to Isla Contadora now, with hopefully fast internet, and then Panama City tomorrow.
Got here just at sunset
Lovely beach with soft white sand - at least at low tide. It disappears almost completely
at high tide!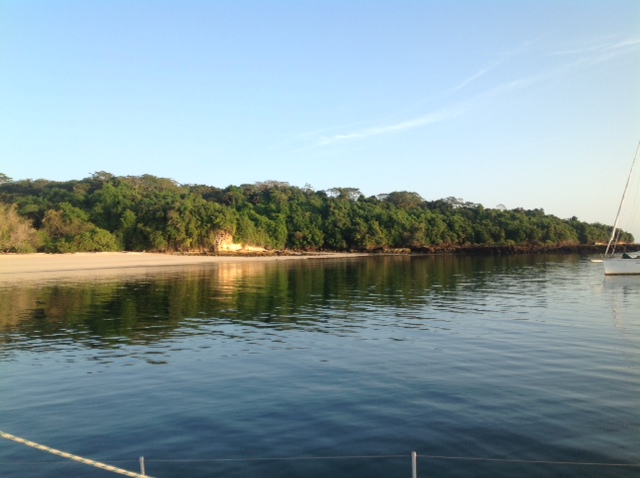 Weekend! A lot of cheerful people came from Panama City - to relax.
---