USA - Maryland, Chesapeake, Hurricane Isaias

SV Meshugga
Nicholas & Deidre Mace
Wed 5 Aug 2020 14:45
It's Hurricane Season, and Isaias, now a Tropical Storm, is bearing down on us through the lower section of the Chesapeake Bay. We are however up in the northern reaches up the Miles River, which is still too large for our liking.


The day b efore the Tropical Storm was due to come over us, we went a few miles up Leeds Creek, and anchored in the main body of the creek, with one other boat on a mooring. Later another 2 yachts joined us at anchor and the Salina tour boat came to take up their mooring ball in the distance is a very good cove, (unfortunately the cove was too small for Meshugga and Salina.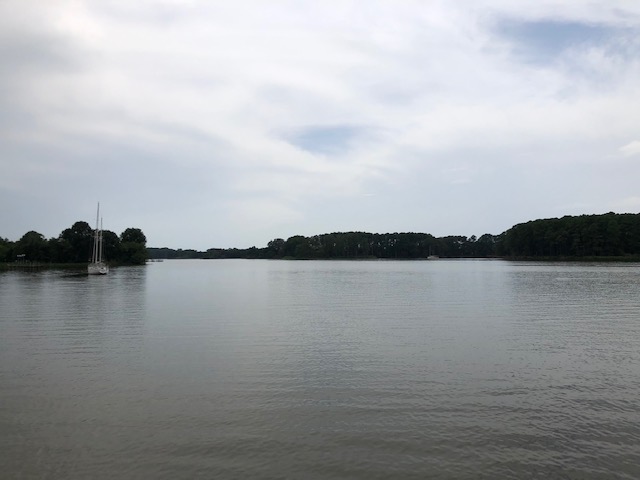 Nicholas' Hobie is well strapped down on the foredeck, and we are ready for any big blow. We prepped Meshugga taking off all the Flybridge cushions, just incase, and ensured that everything was strapped down and all hatches securely closed, due to the expected wind and rain.



Windy shows the strength of the wind. At St Michaels at our usual anchorage they recorded 62 Knots with 3 foot w aves in the river. Up Leeds Creek we had 40-45knots gusting early 50's, (like a good Cape Town SE storm), but with only a 10cm ripple on the water plus Tons and Tons of rain.



Skies clearing after the storm. So happy with our anchorage up Leeds Creek.....




All good, no damages, later in the day we returned to St Michaels.

Take Care



Deidre Mace
SV Meshugga
E: Deidre {CHANGE TO AT} Mace {DOT} co {DOT} za
C: +1 754 213 7663
⛵️⛵️⛵️⛵️⛵️⛵️⛵️⛵️
Sent from my iPad
---