Joliet, Des Plaines River, Illinois

SV Meshugga
Nicholas & Deidre Mace
Wed 6 Jun 2018 20:49
41:31.43N 88:5.228W

After Ottawa we anchored overnight in the Kankakee River adjacent to the Dresden Nuclear Power Plant





We continued on to Joliet, which allows transient yachts to moor alongside the canal wall at the Bi-Centennial Park, between the Chessie Road and Jefferson Bridges. We excitedly took up this option with the intention of spending a few day sightseeing in Joliet.

A few hours later, early evening, whilst still aboard, a Tow with 15 barges (3 abreast and 5 long), came screaming at about 10 knots past us, passing us within 5 meters. Scary and too close for comfort, as any small error by the Tow would have the barges plowing into us. We are well aware the yachts doing the Loop are usually small 30' motor boats and usually only about 3 meters wide, whereas we are 20 meters long and 10 meters wide, ie 62' x 33' - which I am sure the Tow was not expecting.

Anyway, we made a quick decision that the mooring is too dangerous for us, and being already evening, we stayed overnight, and left first thing in the morning. We did have a large Tow with 15 barges come through at 3am, but at least he came through slowly, with lots of crew with heavy beam flashlights, however also passing by us at 5 meters. We had left our AIS on overnight, so that the Tows would be aware of us, and be aware of our width.

Today, a long day ahead of us, as the river from here on is canalized, with no options of anchoring. It's 45 miles, 2 locks and 47 bridges, including the lowest bridge on the Loop we need to pass under with an air-draft of 19.7', to reach Lake Michigan. Thereafter 10 miles on Lake Michigan.

Narrow canal, even more narrow with barges rafted and moored alongside industrial companies.



Atchison Topeka & Sant Fe Rail Bridge, 19.7'



We'll pass through the Lockport Lock, which is the start of the Chicago Sanitary and Shipping Canal which protects Lake Michigan from any effluent and industrial discharge etc flowing into the Lake, as well as through a Electric Water field, which is to prevent the Asian Carp and other fish from swimming up into the Lakes.

Lockport Lock entering with the Lock wall ahead



At the top of the 40' rise





Fish Electric Barrier



The junction of the Calumet SAG Channel and the Chicago Sanitary and Ship Canal



We took the SAG Channel to Lake Michigan as the northern route has 51 bridges, compared to 39 on the SAG, and most bridges on the northern route will need to be opened for us as they are too low for us to pass under, whilst only 4 will need to be opened for us on the SAG.

92nd Street Bridge, open for us, a small yacht and Tow



Elgin, Joliet & Eastern Lift Bridge - our LAST bridge on the SAG, with Lake Michigan in the distance



68th Street Crib Light



Hello Chicago, 8 1/2 hours since leaving Joliet this morning..... Tired.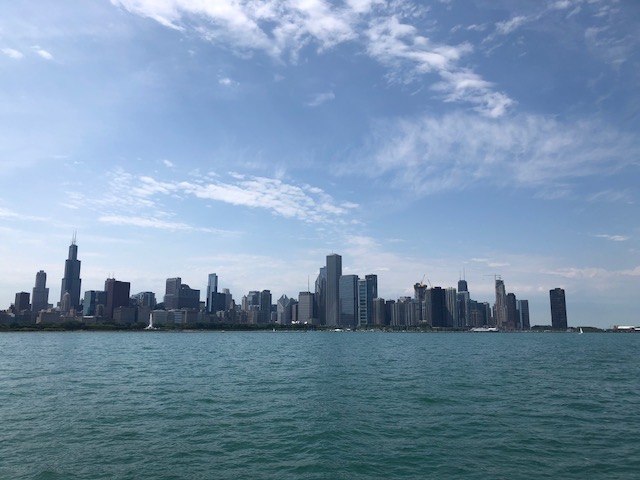 ---