Slipping Meshugga

SV Meshugga
Nicholas & Deidre Mace
Tue 12 Dec 2017 17:51
23:11.495N 81:7.918W
We had a successful haul out at Varadero Marina Shipyard.
They have a 100 Ton, 40" wide Travel Lift, so Meshugga fitted in it at 33" wide with a couple of feet either side in the Haul Pit for fenders.
The local workers in the Shipyard like to do 'private work' on weekends to supplement their low wages, so they hauled us out on a Friday, and we had them prep Meshugga for painting on Saturday for $300 for the whole boat. Whilst expensive by South African prices, it was reasonable by USA prices.
Anti-fouling was done during the week, at Government Shipyard rates, which was $12 per hour, for a team of two painters.
Harbour Master Control Tower
Meshugga in the Travel Lift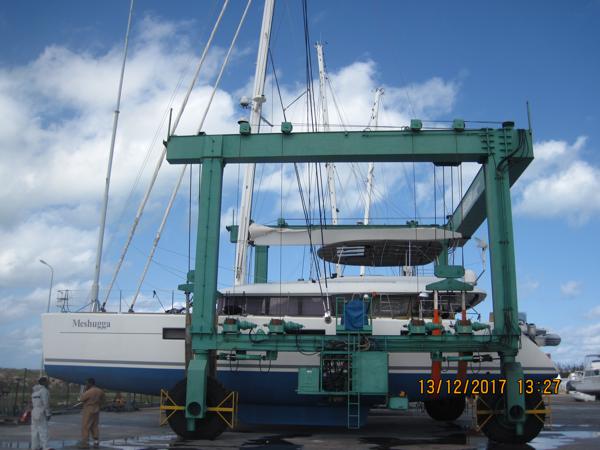 Whilst on the hard we wandered over to say hi to the other large private catamaran on the hard, and amazingly it was being managed by Etteinne Styck from Veldrift who had sailed both on Gumption with Nicholas, and on our Melges……….small world.
A night out in Varadero village with Ettienne, Pirine (Ettienne's French girlfriend) and Jason also from Cape Town, we enjoyed excellent meals at a local Casa restaurant, and live music on the beach.
---