Key West

SV Meshugga
Nicholas & Deidre Mace
Mon 4 Sep 2017 16:52
24:34.609N. 81:48.015W
Hi All
We've been in Key West for two weeks and we've had a lot of fun.
Kieran and Katie came to visit, and we did sightseeing, restaurants, bars, shopping and a super day trip out to Reef Rock, an offshore marine protected area where we had some good snorkeling and fun in the water.
We did the 'must do' tour of Ernest Hemmingway's house. It was lovely - a really gracious tropical home with verandahs around the house and cool interior. It can easily be seen why Hemmingway spent years here in Key West writing in the mornings, fishing in the afternoons and carousing at night til early hours of the morning.
Photos of Ernest Hemmingway
Katie standing next to Ernest Hemmingway's bed
Reef Rock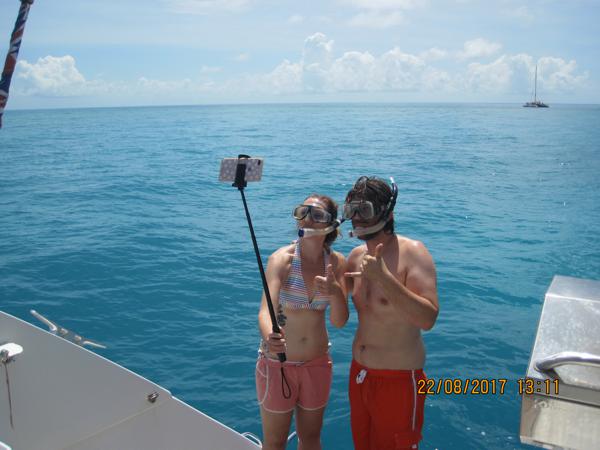 Fun on Meshugga with our hammock suspended between the hulls just into the water.
So cool in 38deg C temperatures with water of 32deg C
Our 'swimming pool' behind Meshugga - great to lounge on and to catch us with the fairly strong currents that sweep around the islands here
Nicholas and Kieran in the cockpit
We had planned to leave Key West this weekend for the Marquesas Keys and Dry Tortugas which are the most outlying islands of the all the Keys, but with Hurricane Irma barreling down, already Cat 3, approaching the northern Lesser Antilles, BVI's and USVI's, on track directly to Key West in 6 days time, we are sitting tight waiting to see exactly what her path will be when she gets a little closer.
We are prepping Meshugga to RUN.
All depending on the High pressure on US mainland whether it allows Irma to slide up the US coast and curve back into the Atlantic between the mainland high and Bermuda High, or whether the mainland High moves south and forces Irma either directly over Florida or up into the Gulf on the west side of Florida.
This will dictate whether we RUN into the Gulf across to Mexico or RUN into the Gulf Stream Current offshore of the east side of Florida and north up the US coast line.
We're filling up with Fuel, stocking up with a few extra victuals and general tidying up outside so that we are ready to go. We anticipate by Friday Irma will be close enough to have a firm prediction of her path, and we'll begin to feel her outer winds - and potentially use them to reach SW across her NE winds towards Mexico into the 'safe' hurricane quadrant.
If Irma goes north directly over Florida or into the Gulf, it's a few miles sailing/motoring offshore to jump into the Gulf Stream which flows north at 5-8 knots, and sailing/motoring at 10 knots we'll put some good distance between us and Irma.
We have no intention of digging in and sitting through a potential Cat 4 or 5 hurricane with 130 - 150 knots of wind.
Never mind whether our anchors etc will hold Meshugga, but also the potential damage from other yachts dragging their anchors and smashing into us - so our choice is to RUN. NOAA issue updates regularly and we'll have lots of warning before the hurricane warning is issued here in Key West.
There are easily 500 yachts here around Key West. I can easily count 100 yachts anchored in our vicinity - I have NO idea what they all intend doing. But there are far too many yachts to rely that everyones anchoring gear is good enough to withstand Irma's winds and accompanying huge seas.
I hear on the news that Floridian folks are already shopping and emptying out stores of long life products, batteries, bottled water etc - especially after what has just happened last week with Hurricane Harvey smashing into Texas and causing such widespread damage, flooding and loss of life.
I'll blog before we leave….
We'll also be online with our Satellite TracPhone, so we'll have constant weather updates and will be able to blog and receive mails.
Take Care
---