Bermuda 1 - America's Cup

SV Meshugga
Nicholas & Deidre Mace
Thu 29 Jun 2017 20:16
Our 5th Americas Cup done and dusted. A fabulous 5 weeks in Bermuda watching the spectacular Louis Vuitton Challenger Series and then the AC proper.
Bermuda is stunningly beautiful. Within the Great Sound are loads of islands to anchor off, swim and snorkel with lots of turtles.
Motoring to the race course from an anchorage
Our FlyBridge Setup to watch the America's Cup.
Great view and Live TV coverage.
AC racing at its' best, up close
Emerites NZ coming past real close
Oracle NZ coming past real close with Katie watching her team
Nicholas with his USA Gear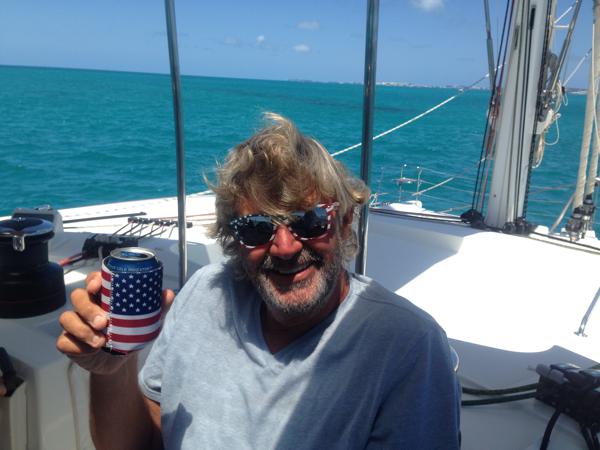 The people are friendly, towns/villages neat, clean and very First World and English. A stark contrast to the other Caribbean Islands we have been to which are all decidedly third world.
The only negative is the exorbitant cost of living here. Beers are USD$11. A burger starts at USD$17, not to mention what a full on meal with a bottle of wine sets you back.
We've loved that Kieran and Katie (our future daughter-in-law) came to visit us, and we spent an amazing 10 days together sightseeing the islands and obviously watching the AC whenever racing was on, along the course boundary lines.
William Crockett also came to visit, both to watch the AC, and to help us set up our Comms and TrackPhone on new Meshugga.
Now that the AC is over, we will wind down and 'get back to normal'.
Meshugga is still a work in progress - we keep loosing stuff as we can't remember where the storage place is. We had old Meshugga for 22 years and knew instinctively where everything was stored. This boat is a learning curve, not only to work out where the best storage place for everything is, but also learning where and how all the systems are installed, and how to optimize all the equipment aboard.
We plan on spending another couple of weeks in Bermuda, and will download weather gribs as Hurricane season is starting. We need to start our plan to move out, and to a relatively safe environment for Meshugga.
Our plan is to sail to the USA, and go into their amazing Intercostal Waterways somewhere around Virginia (south of New York), and then travel in the Intercostal Waterway down to Florida, stopping and sightseeing all the way.
We'll spend the Hurricane season (July to October) in the Intercostal Waterways and then when the weather looks good - back out to the Caribbean…….
See following Blogs for more photos
---