Miami

SV Meshugga
Nicholas & Deidre Mace
Tue 15 Aug 2017 19:02
25:44.310N 80:12.592W
We left Lake Sylvia, Fort Lauderdale on Tuesday 8 August with a lovely easterly wind, and sailed south past the beautiful Cape Florida Lighthouse into to Biscayne Bay, which is the southern entrance to Miami.
Sailing down to Biscayne Bay
Miami Beach Skyline from the water
Cape Florida Lighthouse
Arriving just as the sun was setting we anchored off the No Name Harbour. The following day we attended to chores aboard and then motored offshore, to an area without sea grass, to make fresh water.
Back in Biscayne Bay we spent a further couple of days, anchored off Nixon's House, swimming and chilling, and then motored across to Miami mainland, and anchored abeam the beautiful Vizcaya Museum and St Kieran's Catholic Church with the Shine of Our Lady of Charity.
The weather is 35-38 deg everyday, the water a warm 32 deg. Clean beautiful water to swim in numerous times a day.
To get ashore we dingy'ed to the Coral Reef Yacht Club who were gracious in allowing us to use their dingy dock. A mile from the yacht club, and in need of refreshment we found the Grove Restaurant, and enjoyed excellent draft beer with a live Latino band with good tunes and vibes. Later cruising the famed Coco Walk which we'd heard was fantastic - we unfortunately found it to be just a few streets of normal restaurants, bars and closed clothing stores - not the local arty vibe we'd understood it to be - a Great disappointment.
Nixons House
Next day, late afternoon we Ubered to Miami Beach to walk the iconic Ocean Drive Boulevard, and that lived up to every photo and write-up we'd ever seen. Girls in skimpy bikinis and 7" heels, Roller Skaters in avant-garde clothing, men in Uber Cool Ferarris, Lambourginis and Souped-up cars. It was definitely a place to sit and watch the passing parade, which we did with gigantic Mango Daiquiris and dinner at a pavement restaurant with great Cuban music. Later still we made it to Lincoln Street Boulevard - with 1000's of people. Everyone in Miami was out and about. By the time we got back to Meshugga in the early hours we were bushed.
Miami Beach
Beach Volleyball on Miami Beach
Dinner and Daiquiri's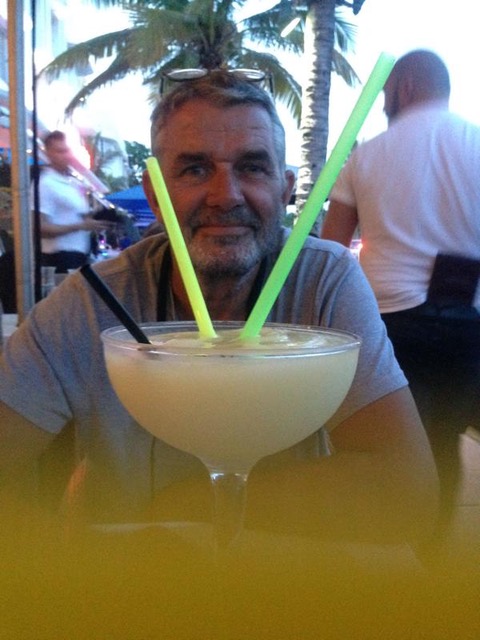 We met up with our friends Patrick and Jaqueline on Cava for drinks before heading south down Biscayne Bay with a full main and genoa in a gentle easterly breeze, in 4 meters of water, sailing down to Key Largo. Our choice of anchorage was beautiful with lovely swimming water, but left much to be desired as sun went down and we were enjoying drinks and BBQ on the FlyBridge, the mosquitos arrived in their 100's, and for the first time in Florida had to nuke our cabin and use the Ocean Air netting screens and a Mosquito zapper to get a decent nights sleep.
Biscayne Bay Channel markers through the Shallows
Cormorants sitting on Channel Markers
Angle Fish Channel, at the northern end of Key Largo - from Biscayne Bay seaward
Mangroves on either side of the Channel
Channel markers heading out to the Hawks Channel a couple of miles offshore
Nicholas catching yet another Baracuda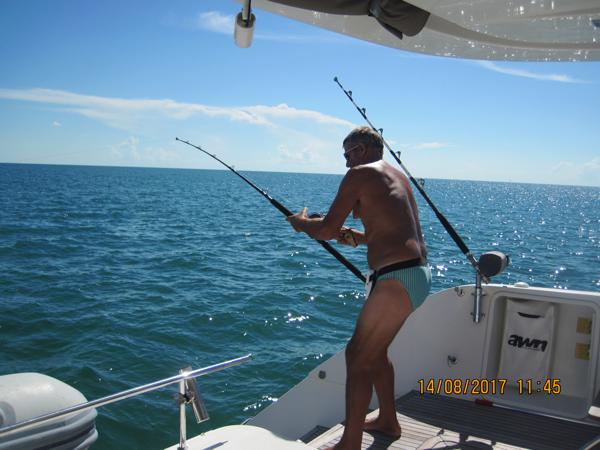 Cocktails on Meshugga
It another beautiful day, and we're sailing down the Hawks Channel i.e. a body of water between the outer fringing reef and the Keys. Absolutely beautiful. We just have to keep a good lookout for all the crab pots - on our list to buy us one as soon as we get ashore. This is apparently great crab waters. We will probably stop again overnight - everywhere is so protected. Our next port of call is Key West.
Take Care
Deidré Mace
C: + 1 754 213 7663
S: deidre_mace
⛵️⛵️⛵️⛵️⛵️⛵️⛵️⛵️
Sent from my Mac


---