Martinique - Le Marin

SV Meshugga
Nicholas & Deidre Mace
Sun 12 May 2019 17:32
4:28.04N 60:52.55W

Rocher du Diamond, uninhabited volcanic rock en-route to Le Marin



We arrived in Le Marin, the yachting capital of Martinique, and have spent the past couple of weeks checking out all the Chandleries and Marine Services.

The Red Arrow is Meshugga.



We've been able to get our Honda outboard motor serviced by the Honda Agent - unfortunately they did not fix the problem it went in for ........ apparently they don't have the 'thingy' in stock that is causing the problem. Sods Law.

Mecanique Plaisance - Honda Agent in the Carenantilles Boatyard



Impressive Travel Lifts, RH one is wide enough to lift Meshugga



In between work, ashore is numerous restaurants and bars, but not much to 'see and do'. Kokoarum is one of our favorites with Free Wi-Fi. They don't mind yachties sitting for a few hours nursing a beer and using their WiFi, providing you do it during their quite periods between meal times.




Bars and restaurants are especially full on Saturdays which is change-over day for the Charter yachts




A few miles away is St Anne, a lovely bay with small village, crystal clear water and a stunning stretch of white beach ending on the headland at Club Med. We went there for a few days whilst waiting for our Honda workshop appointment.

St Anne beach with a beached ship wreck



St Anne Historical Church built in 1824


Inside - more excellent craftwork and stunning Crystal Chandeliers.
Thinking of you Jenny... ❤️



View from the Church, dinghy dock at the end





Colorful shops - I bought a couple of bikinis here




Even the Public amenities are colorful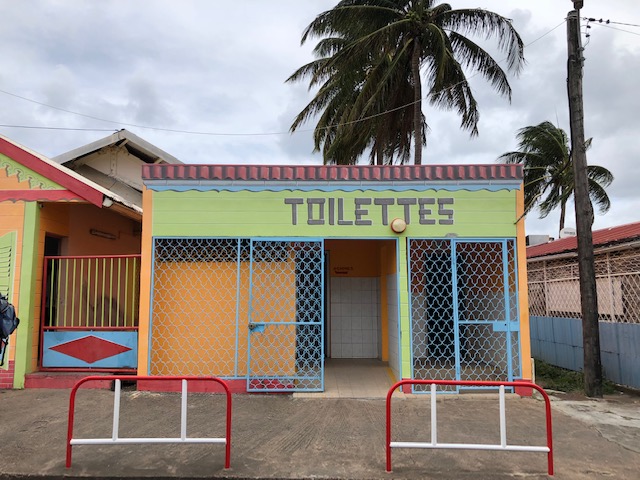 Local housing all neat and colorful




Blooms at the local Market



Someone thinks that Orca and Dolphins are friends......HaHa ..... Orcas eat Dolphins... Just Saying....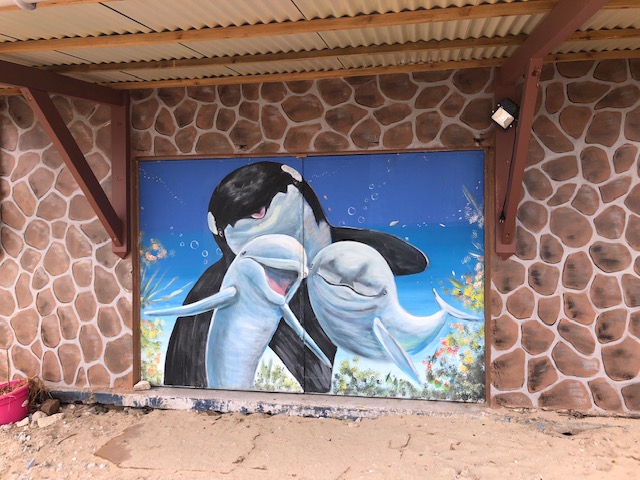 The French appropriating English words



Beach bars on St Anne beach




St Anne anchorage with about 200 boats




I was absolutely amazed at the sheer quantity of yachts in Le Marin and St Anne. Between the two areas there was about 2000 yachts when we arrived. Over the past two weeks there has been a noticeable decease, yachts sailing away either on their own or north to Antigua to join the 'Return Arc', and 3 huge ships with onboard cranes lifting both sailing yachts (mast up), and motor yachts, for transport across the Atlantic to the Med for the season starting there. Apparently they will do about 12 ships this season.

Loading yachts



Good news is that with Lagoons assistance, the Bamar manufacturers in Italy (our electric roller furlers), finally agreed to make us two new brass gearing rings instead of us having to replace the both entire roller furlers at a horrendous cost of US$16 000 each. The gearing rings arrive late next week with DHL.

We continue to bump into some of the same people we met in Dominica and elsewhere, but the season is winding down and everyone like us, are busy with maintenance and prepping their boats to sail away out of the Caribbean Hurricane area as Le Marin is the last main yachting centre in this area with contractors, services, and easy international flights to get stuff both from Europe and USA.

Local sailors sailing on a traditional gaff rigged boat between yachts in the anchorage.



Once we receive our Bamar part, we'll continue with our plans and move south. Next stop will be St Lucia -a whole whopping 25 miles south of us.

Take Care
Deidre Mace
SV Meshugga
E: Deidre {CHANGE TO AT} Mace {DOT} co {DOT} za
C: +1 754 213 7663
⛵️⛵️⛵️⛵️⛵️⛵️⛵️⛵️
Sent from my iPad
---