Port Elizabeth, Bequia, SVG

SV Meshugga
Nicholas & Deidre Mace
Thu 13 Apr 2017 10:24
13:0.62n 61:14.50W
Port Elizabeth Bay, Bequi Island
About 20 miles out of Bequia we had a Boobie come dive around Meshugga, and then after a while, came and perched above the front seat and catch a ride.
As we arrived at Bequia on the outlying channels throughout the islands we saw this ship wreck. We were interested in all the rock cave buildings in the cliff faces. All are derelict and uninhabited now. Also,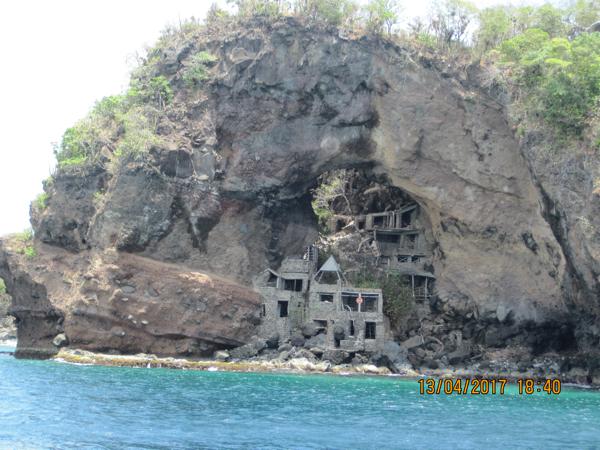 A large bay, and a Entry/Clearance port for The Grenadines. We cleared Immigration and Customs here, and again the officials were pleasant and professional and the whole process took us less than 20 minutes. We toured the town, checking out stuff. We were pleased to see that a local restaurant, Maria's, sponsors the Bequia Kids Sailing program, as we'd seen quite a few Oppies, with a trainer in a chase boat around where we'd anchored. We chose to support Maria's and went there for Carib beers and conch fritters - which we've become very partial to.
The dingy dock had been quite full of dingies, and whilst tying up to the outer side of the dock, quite a few children were jumping from the dock onto the dingy pontoons before jumping into the water. We'd read about this trend on Noonsite - obviously jumping onto dingy pontoons damage them. We untied and went round to the inner side of the dock where the water was shallow and a boy asked to look after our dingy. We agreed that we'd pay him, provided he ensures no-one jumps on our dingy. When we came back a few hours later, he was till there sitting on the jetty. He asked for EC5, so we gave him EC10. He immediately ran off and we were quite impressed when he returned almost immediately with a hand full of sweets which he dished out to the other couple of kids who had been keeping him company.
The bay was quite full of yachts as it was the Bequia Easter Regatta - a highlight of the Bequia calendar, and that night the music was played loudly from the local yacht club, and the following morning we could see bright orange buoys laid for the regatta and lots of yachts out and about with sails up, looking at lay lines, and later the race with spinnakers flying.
We went through a channel at the end of Bequia and a small island en route to Friendship Bay, it was pretty narrow and close up.
---